The valuation of Wish has dropped from $22 billion to just $0.45 billion. A staggering 50x decrease in less than two years. This case illustrates the importance of defensibility — the ability to maintain a competitive advantage.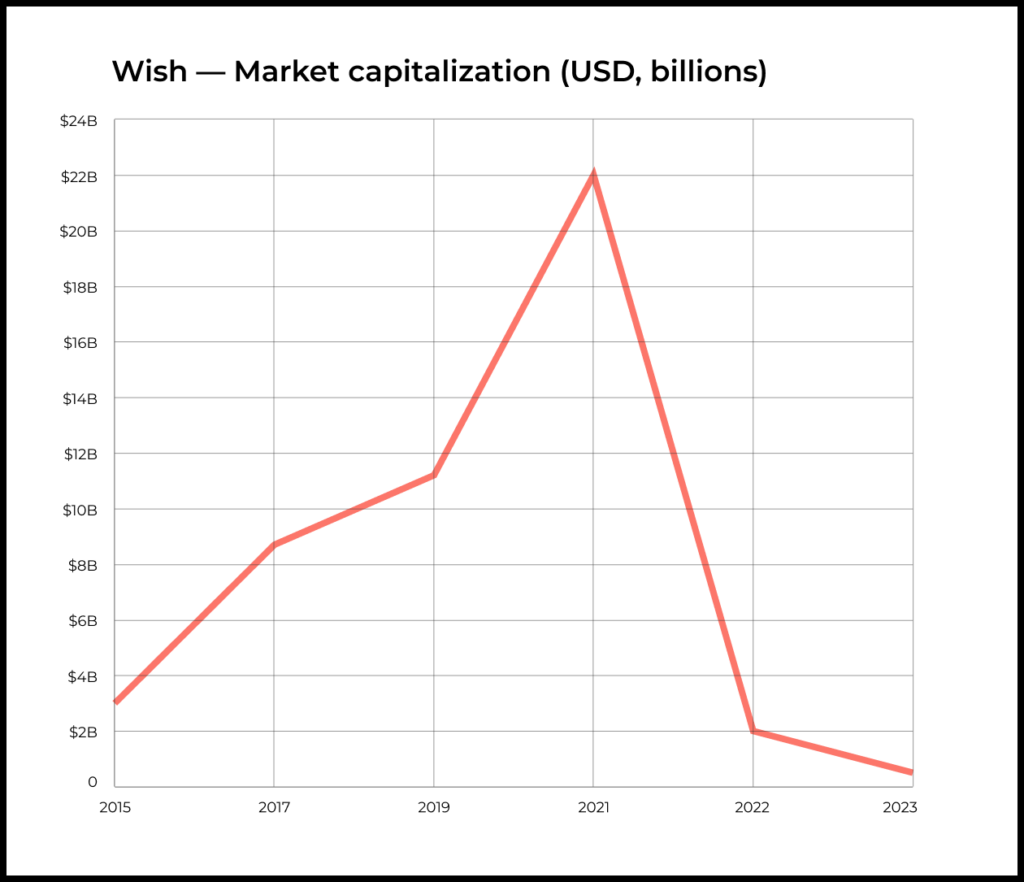 Wish is a cross-border, e-commerce marketplace that allows users from around the world to buy goods directly from China. The majority of their business comes from impulse purchases of cheap, unbranded goods priced between $5 and $15.
Wish was not the first company to build a cross-border marketplace for goods from China. Aliexpress had been doing so for many years before.
However, Aliexpress was a web-first product that failed to adapt to the mobile era. Wish saw an opportunity and took advantage of it, building a mobile-first product that could capitalize on the paid mobile growth channels. Mobile growth channels allowed Wish to reach users that didn't use or know about Aliexpress.
→ Test your product management and data skills with this free Growth Skills Assessment Test.

→ Learn data-driven product management in Simulator by GoPractice.

→ Learn growth and realize the maximum potential of your product in Product Growth Simulator.

→ Join our discussion on LinkedIn. New topics to talk about every week.
For several years Wish was one of the biggest advertisers on Facebook which allowed them to quickly evolve into a very large marketplace.
Having launched in 2010, Wish became a billion-dollar company around 2015. A 10 billion-dollar company in 2018. And went public in 2020 soon after reaching a valuation of 22 billion. By 2022 nearly all of that value was gone.
The main reason is that the Wish business model had very weak defensibility at all key levels:
PRODUCT: Wish's product was quickly copied by other companies, including Aliexpress, Joom, and Vova. There was no real differentiation between these products, which led to price-based competition.
GROWTH CHANNELS: Wish's growth model heavily relied on paid ads, which is a low-defensibility growth channel. As installs became more expensive and competition increased in mobile ad channels, Wish struggled to maintain its growth. The iOS 14 IDFA change, which disrupted paid acquisition on mobile, was the final blow to the company's growth model.
MARKET: In 2021, EU added VAT to goods bought outside of the EU, which significantly decreased Wish's added value compared to local marketplaces. The company was also facing scrutiny from regulators due to problems with some of the products on its platform. For example, it was blocked in France, its biggest market in Europe.
All of these factors contributed to the rapid deterioration of Wish's growth model. The growth stopped, making it almost impossible for the company to become profitable.
The lack of defensibility in Wish's product, growth channels, and market ultimately led to its decline and the significant drop in its valuation.
Growing fast ≠ an ability to preserve the value.