Last month we asked our product management experts about the transition from working at a startup to working at an enterprise. While each expert took a different path to enterprise product management, there were similarities. They told us that both startups and enterprises have intelligent, talented, and passionate people and that you'll learn a lot in both places.
However, most of our experts made the switch from startup to enterprise because they wanted to deepen their product management skills and broaden their scope. They also ended up improving their communication skills because enterprises have many more stakeholders that must be heard and brought on board. Teamwork becomes more important than moving as fast as possible. The experts also stressed to get clear on your career goals and do a lot of research into company culture if you're thinking about making the move to enterprise.
There was another question we asked them: "What useful information sources helped you to move more smoothly through this transition?" The number and quality of resources they came back with were impressive. Based on their answers, we put together this selection of books and podcasts for product managers looking for inspiration and knowledge for their careers.
Thanks to these product managers for their expert recommendations:
→ Test your product management and data skills with this free Growth Skills Assessment Test.

→ Learn data-driven product management in Simulator by GoPractice.

→ Learn growth and realize the maximum potential of your product in Product Growth Simulator.

→ Join our discussion on LinkedIn. New topics to talk about every week.
Below you will find our experts' selection of books and podcasts for product managers thinking about moving from startup to enterprise or just looking for inspiration and knowledge for their careers.
Books
Podcasts
Expand your knowledge in the most convenient way
You can learn about GoPractice updates and receive new materials for professional development by email, or follow the updates on our LinkedIn page
Books
Continuous Discovery Habits: Discover Products that Create Customer Value and Business Value by Teresa Torres
Publication date: April 14, 2021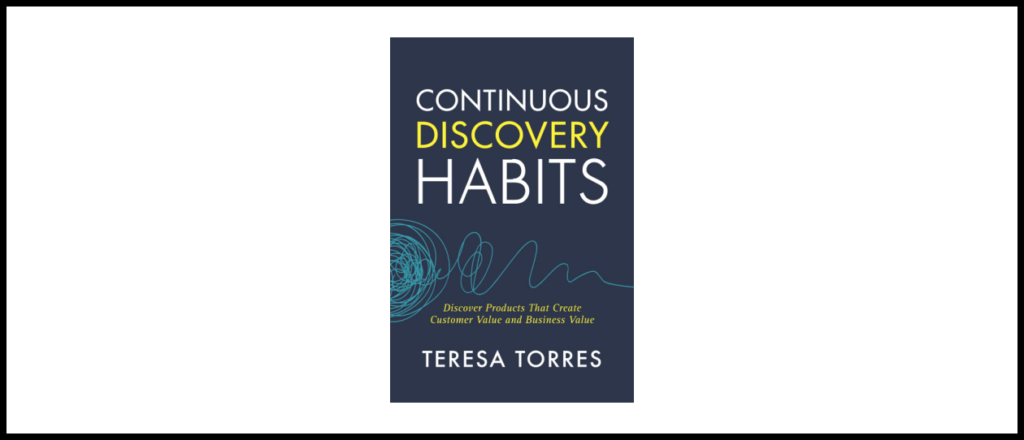 About the author
Teresa Torres is a globally renowned consultant, author, speaker, and coach. She teaches organizations of all sizes to create the best products for their markets. She also teaches product management skills through the Product Talk Academy and the blog ProductTalk.org.
What Amazon readers think about this book
"As a PM practitioner, I'm grateful that such an important topic (product discovery!) has met such a brilliant, structured, and systematic mind in Teresa. The book is comprehensive on the topic, starting with history, then foundational principles, and delving into all the practical aspects of practice. Teresa's clarity of thought gives her writing perfect nuance, and the content is never over-stated nor does she make any overly broad sweeping claims."

"Short, sharp, and excellently presented framework of practices for product discovery work. Teresa has done a wonderful job of creating a book that will take you through the process of doing research-backed product work step-by-step."
Cracking the PM Interview: How to Land a Product Manager Job in Technology by Gayle Laakmann McDowell and Jackie Bavaro
Publication date: December 2, 2013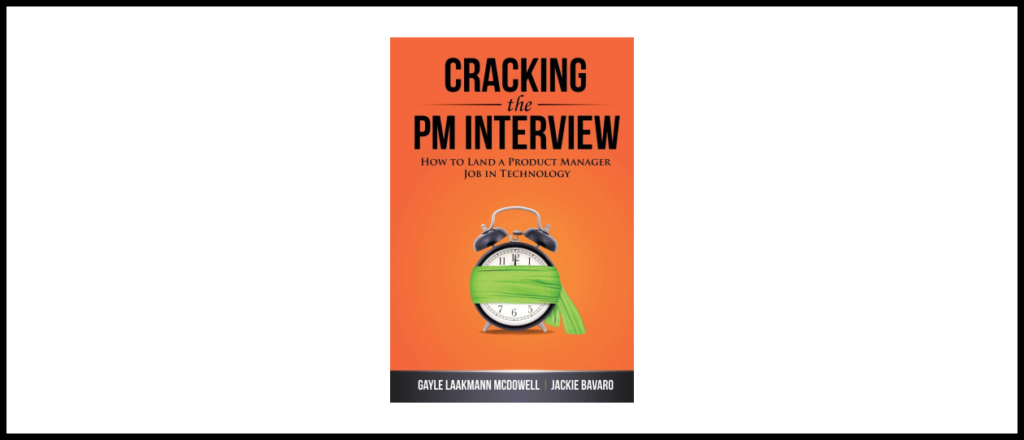 About the authors
Gayle Laakmann McDowell is a founder, consultant, and author focused on improving tech hiring. She's been an engineer for Google, Microsoft, and Apple and her current company CareerCup works with tech companies to improve hiring practices. She has bachelor's and master's degrees in Computer Science from the University of Pennsylvania and an MBA from the Wharton School of Business.
Jackie Bavaro has over 15 years of product management experience, has worked as a product manager for Google and Microsoft, and joined Asana as its first product manager. She advises product managers and those entering the product management field. Jackie double majored in Computer Science and Economics at Cornell University.
What Amazon readers think about this book
"I recommend this book for anyone in product management or wanting to get into product. It touches on everything from resume and cover letter to what to expect as interview questions and what some of the big companies expect from product managers to help you see what company might be a good fit for you."

"This book raises some interesting questions about product design, creation, users and all the steps in between. It will undoubtedly stretch your creative capacity. I recommend thinking about product questions asked throughout the book before proceeding with reading sample answers that are usually quite good. Great book for developing creativity and product design skills!"
Decode and Conquer: Answers to Product Management Interviews by Lewis C. Lin
Publication date: November 28, 2013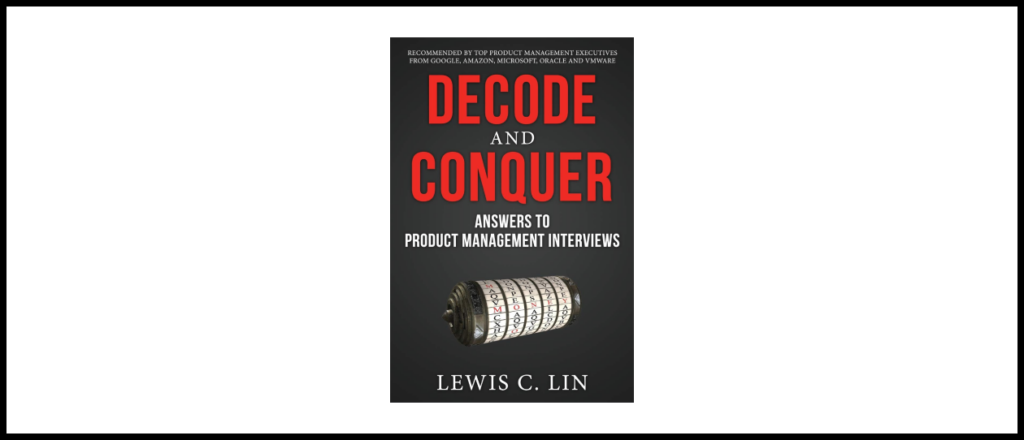 About the author
Lewis C. Lin is the CEO of the interview coaching firm Impact Interview. He was a director of product management at Microsoft and has worked at Google. His work has been seen on ABC News, FOX, San Francisco Chronicle, The Atlantic, The Telegraph, CNN, and Business Insider. Lewis has a bachelor's in computer science from Stanford University and an M.B.A. from Northwestern.
What Amazon readers think about this book
"PM interviews can vary wildly and test several different modes of thinking. It can be overwhelming trying to prepare for the process without some guidance. Decode and Conquer was the best tool to help me navigate the PM interview, prepare for what to expect, coach me on how to think, and go into the interview room with confidence. I highly recommend this resource."

"I feel so much more confident in my ability to interview for these jobs. Funny because I do the work now, and am very good at it, but it's about being able to answer quickly and show confidence in an interview setting which is a little different than the day to day work."
Escaping the Build Trap: How Effective Product Management Creates Real Value by Melissa Perri
Publication date: November 29, 2018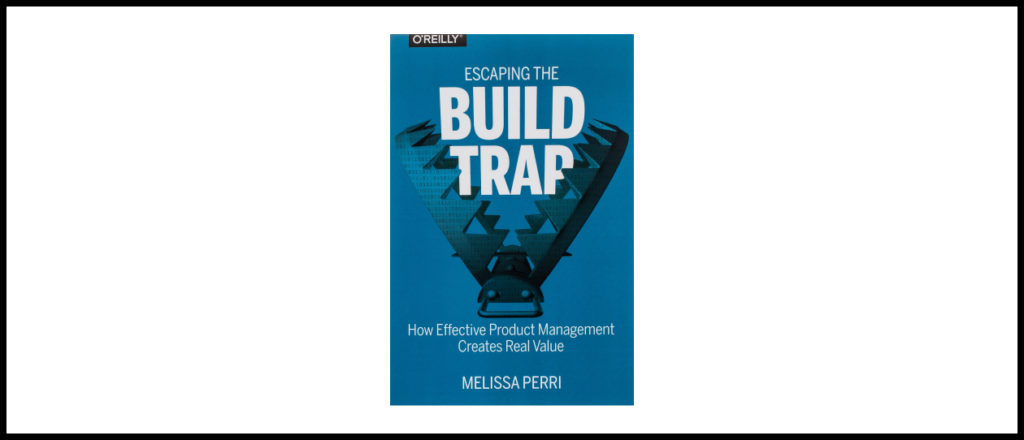 About the author
Melissa Perri is the CEO of the product management consultancy Produx Labs. She created Product Institute, an online product management school. She teaches product management in the MBA program at Harvard Business School. She is a graduate of Cornell University with a B.S. in Operations Research and Information Engineering.
What Amazon readers think about this book
"This book helped reframe how I think about product management, and explain some of the PM fallacies I had seen in my career up until reading this book. Incredibly insightful and concise, with practical frameworks that can be applied into the Product Management process of any kind. After many unsuccessful PM interviews, what I was able to extract and implement from this book helped me land an awesome job in Education Technology."

"'A good strategy is not a plan; it's a framework that helps you make decisions.' Over the course of my product career, I had to learn what strategy is the hard way—through building and executing on various "strategies" and learning what was missing or not effective. Melissa's crisp distillation of product strategy, and her connection of that strategy all the way through to product execution… well, it's the book I wish I had at the start of my product career!"
Good Strategy Bad Strategy: The Difference and Why it Matters by Richard Rumelt
About the author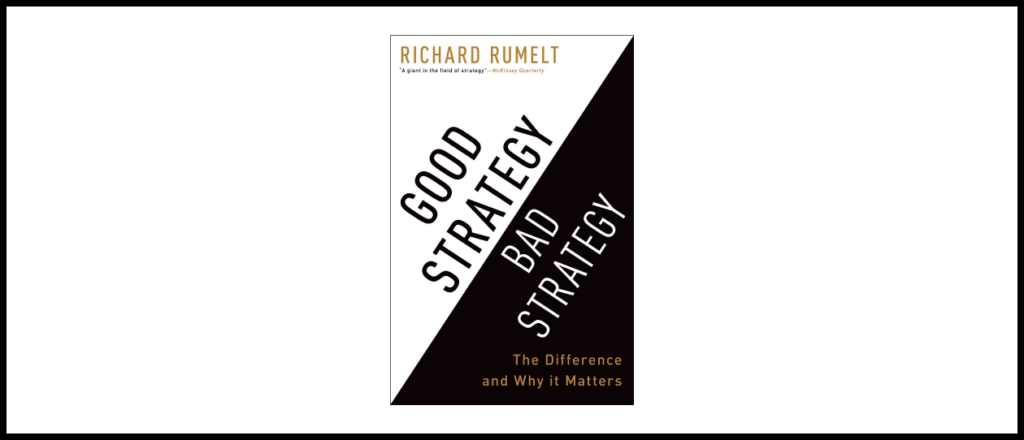 Richard Rumelt lives in Bend, Oregon and writes, speaks, and consults on strategy. He received his Master of Science in Electrical Engineering from UC Berkeley and his doctorate in business from the Harvard Business School. He is also an Emeritus Professor at UCLA Anderson.
What Amazon readers think about this book
"I found this book invaluable. Strategy, in the sense of a well-designed approach to a clearly defined problem, is often overlooked in management texts, especially with the current wave of books extolling the virtues of having a Vision, Values, and Goals (not that those are bad things, just incomplete). This book not only covers strategy in depth, it does so with reference to interesting historical stories that concretize the concepts and provide for an entertaining read."

"I thought I understood strategy but this book helps break apart the differences between goals and strategy. Often we think a mantra or inspirational saying is enough to guide and motivate us but we need solid goals and a strategy to help us reach them. This book helps us look beyond the simple goals to see how a good strategy can continue to guide us."
Inspired: How to Create Tech Products Customers Love by Marty Cagan
Publication date: December 4, 2017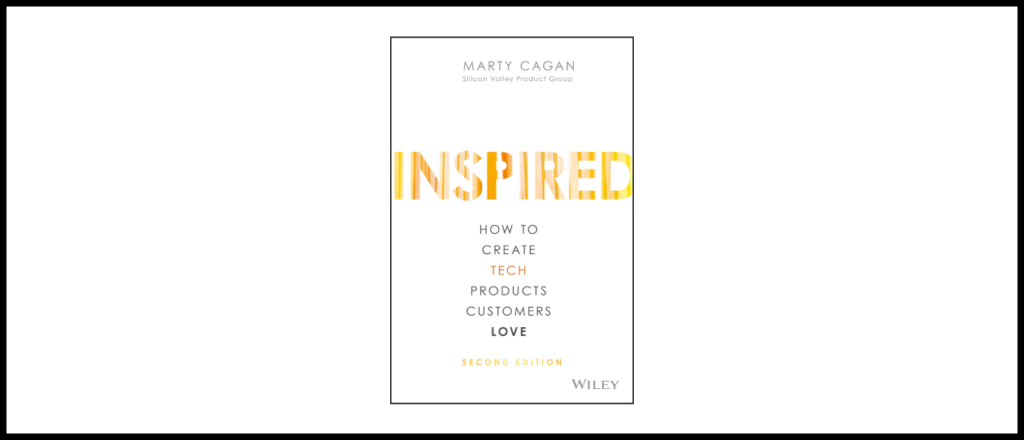 About the author
Marty Cagan is a writer, speaker, coach, and the founder of the Silicon Valley Product Group, an organization that teaches people how to create great products. He has been an executive for a variety of companies including Hewlett-Packard, Netscape Communications, and eBay. Marty holds B.A. degrees in Computer Science and Applied Economics from the University of California at Santa Cruz. He is a graduate of the Stanford University Executive Institute.
What Amazon readers think about this book
"Marty Cagan once again shows his mastery of the Product space with an iteration of his earlier version. This book brings to light many challenges of the modern product manager and product Team, and proposes several options to consider. What I find most striking is how close the descriptions are to actual events and discussions in our company. Cagan has certainly done the research and this book is a required read for anyone wanting to excel at building products and Product Teams."

"This book goes through the biggest and most important points of modern Product Management, with just enough detail to give you a foundation upon which you can build, and with enough breadth that you get a pretty complete overview of the rationale and practices used today. Therefore, I recommend this book for people transitioning (or that are considering transitioning) into a Product Management role, as well as a guideline book to be revisited by more experienced PMs, as often an horizontal view of the Product Management discipline can sometimes help you reset and refresh your point of view."
Empowered: Ordinary People, Extraordinary Products by Marty Cagan
Publication date: December 3, 2020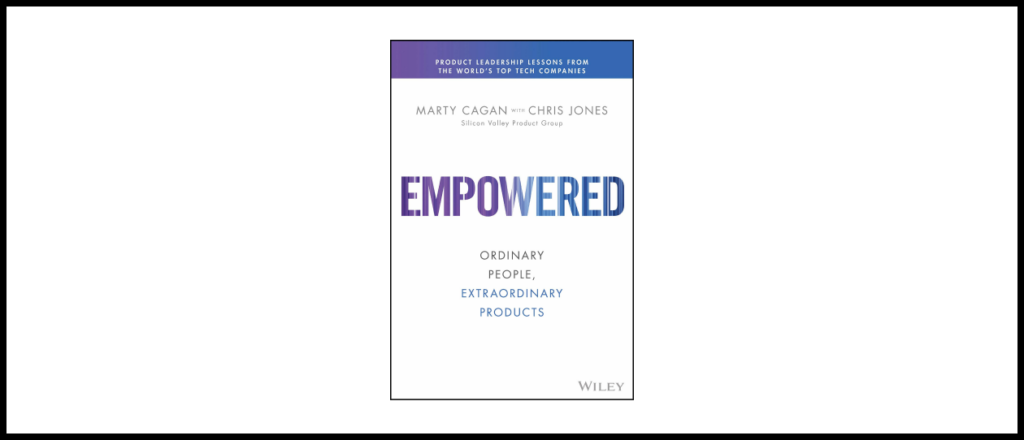 What Amazon readers think about this book
"Practical, insightful, and inspiring, this book is a great read. In simple concepts, this book provides excellent common sense management insights on both how to grow your team and how to create a culture of collaboration and innovation to deliver great products that customers love and that bring revenue."

"It's excellent, as I expected. When I read the precursor, INSPIRED, it made a huge impact on my thinking as a product designer. This book gets into leadership and creating conditions where great design and product creation can happen, so that people can do their best work. It contains some tough talk for companies that are parroting some of the right words (agile, etc) while placing harmful and arbitrary limits on the teams. If you're in a position of any authority you should definitely read it—and even if not, read it and recommend it so you can be influential."
The Lean Product Playbook: How to Innovate with Minimum Viable Products and Rapid Customer Feedback by Dan Olsen
Publication date: June 2, 2015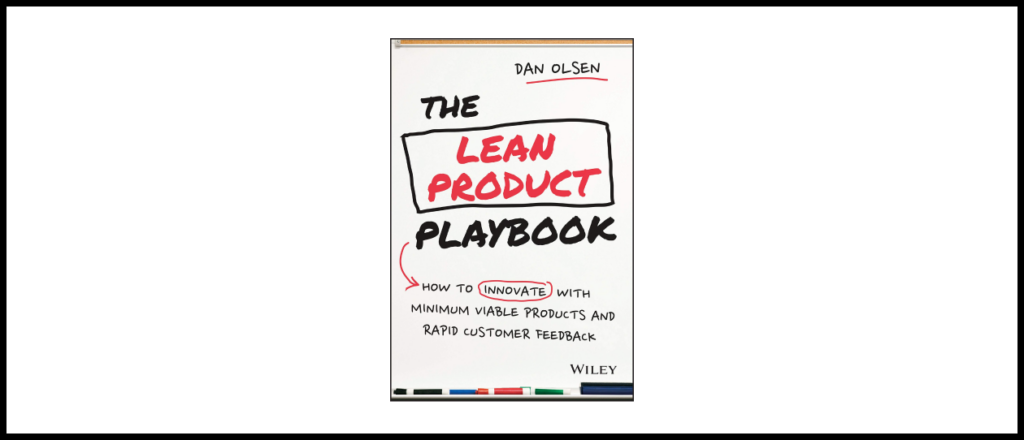 About the author
Dan Olsen is an author, speaker, and consultant who trains product leaders to create successful products and teams. His clients are some of the biggest names in the tech industry: Amazon, Facebook, Google, Uber, Walmart, Box, and eBay. Dan was also a product leader at Intuit and a variety of startups. He has a bachelor's from Northwestern in electrical engineering, an MBA from Stanford, and a master's from Virginia Tech in industrial engineering.
What Amazon readers think about this book
"This is the number one book I recommend to people who are interested in product. The Lean Product Playbook not only covers a wide range of different product techniques but also when to best use them and common pitfalls to avoid when implementing them. From identifying market opportunities to user research and product design to collaborating with engineers this book covers everything. As a product manager myself I refer to it often when encountering problems at work and use it to help navigate through uncertainty. Highly recommended—if you only read one book on product make sure this is it!"

"Loved how useful and applicable this book was. Dan Olsen does a great job of explaining high-level concepts and then detailing how they're applied in a real-world setting. I read this book while job-hunting for a Product Manager role and I think it helped a TON in securing a role that I loved. Strong recommend!"
User Story Mapping: Discover the Whole Story, Build the Right Product by Jeff Patton and Peter Economy
Publication date: October 7, 2014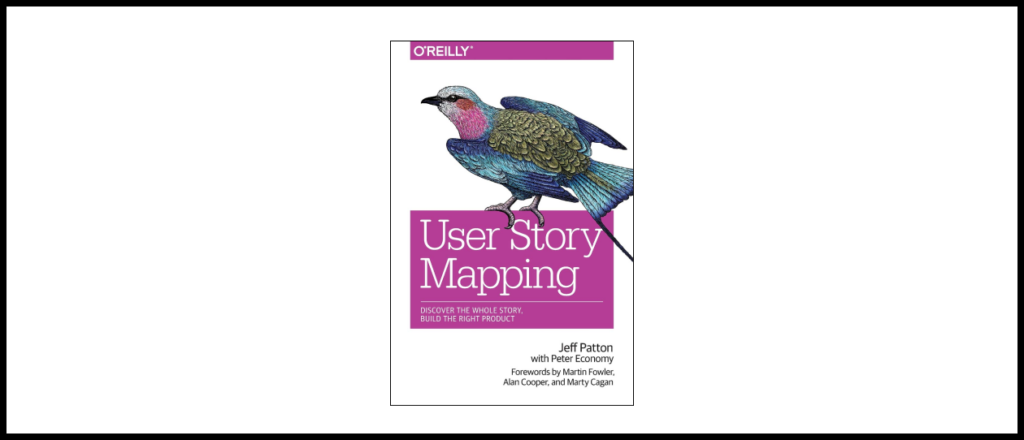 About the authors
Jeff Patton has been building software for over 40 years. He was a product leader for a small company that became Salesforce Commerce Cloud and has taught Agile, user experience, and product management.
Peter Economy is a business author, editor, and publishing consultant. He is known as the Leadership Guy on Inc.com and was Associate Editor for Leader to Leader magazine for over 10 years. He is a graduate of Stanford University, majoring in Economics and Human Biology.
What Amazon readers think about this book
"Really liked this book. It's focused on understanding how to build the right software to get the right outcomes, rather than the right product, which is what it really is all about. I strongly recommend this book for anyone in the software industry honestly, but particularly for people aspiring to be great product managers/owners, and for people looking to be good Agile coaches, as they might make a team successful following Jeff's ideas."

"I came across this book by accident, I was learning about another topic and this subject popped up. I love everything about storytelling so I felt curious how this approach could help to build the bridge between business logic and IT logic, and after carefully reading the methodology that graciously Jeff Patton explains, I immediately knew that I had found a golden tool. Thanks for that Jeff!"
Podcasts
Consulting Success Podcast

About the host
Michael Zipursky is the co-founder and CEO of Consulting Success. He has counseled all types of companies, including Panasonic, Financial Times, and Sumitomo, and for 20 years has been constructing businesses. Michael has also authored five books about consulting and is a speaker on the topic.
What listeners think about this podcast
"I began listening to the consulting success podcast when I was trying to figure out how to transition from my corporate job to running my consulting business full-time. I would pop an episode on in the car to and from my drive to work and the guests' insights began to inspire and encourage me to continue working toward my goal."
"I've reached a tipping point in my career and have decided to work for myself (thanks Covid). Thankfully, I found this podcast at the beginning of my start-up journey. Episodes are short, but filled with practical advice & inspiration. I find myself nodding my head in agreement when listening. Micheal is a skilled and gifted interviewer. He captures one's attention right from the beginning. Highly recommend!"
Available on:
HBR IdeaCast

About the hosts
Alison Beard is a senior editor at Harvard Business Review where she specializes in management career guidance. She has also worked at the Financial Times.
Curt Nickisch is a senior editor at Harvard Business Review and has reported for NPR, Marketplace, and Fast Company. He has an MBA from Boston University.
What listeners think about this podcast
"If you're currently a business owner (or want to be one in the future), this podcast should be part of your weekly content diet. HBR IdeaCast sets the standard for management podcasts, providing actionable advice and insightful conversations in an easy to consume format. Truly a must listen!"

"HBR's podcast never disappoints. I always learn something new and often save the episodes so that I can transcribe and write down the key portions. Keep up the fantastic work!"

"I'm on the business side working in the tech sector. I find these podcasts extremely insightful and thought provoking. I've recommended this series to other members of my team."
Available on:
How I Built It

About the host
Joe Casabona has over 20 years of experience creating websites. He hosts multiple podcasts and has taught at the collegiate level for over seven years. He is also the author of four books.
What listeners think about this podcast
"Joe's passion brings out the passion of each of his guests as they talk about product & business development. Learn how they create via authentic conversations. Listen and learn!"

"Joe and his guests provide some incredibly actionable and compelling content on how to go from idea to implementation. Highly recommend listening and subscribing to How I Built It if you want the knowledge and mindsets to build the company of your dreams (and reach your overall goals as a result)!"
Available on:
How I Built This

About the host
Guy Raz is a reporter, radio host, podcast host, and independent producer. He is a New York Times bestselling author and the founder and CEO of Built-It Productions. His productions are listened to by almost 19 million people every month.
What listeners think about this podcast
"This podcast is a motivational inspiration. It shows the hard work and challenges that make a great idea a reality."

"I really love learning the backstory of some of my favorite brands, plus introductions to brands that I've never heard of or haven't tried. I enjoy the relaxed interview style and questions are always on point. Highly recommend."

"It's easy to forget that success stories are mired in many, many, many failures, struggles and other hardships and the bucket list of problems faced is one that has been set to infinite refill. Hearing about how people are dealing with starting up, scaling, capital and failure is inspiring and a reminder that nothing worth having comes easy. This podcast should be required listening for anyone looking to start a business and/or anyone remotely involved in B2B. Guy dives deep to get guests to reveal the grit and determination needed to succeed, as well as insight into the successful business owner's mind and mindset. Love this podcast!"
Available on:
Lenny's Podcast

About the host
Lenny Rachitsky is a newsletter author, angel investor, and podcast host. His weekly newsletter gives advice on career, growth, and product management. He also runs Lenny's Job Board.
What listeners think about this podcast
"Don't let his soft spoken, humble manner fool you… Lenny's insights and information packs a real punch and gets to the heart of all things marketplaces, product management, and so much more. He covers high level stuff but he makes a newbie like me want to dive right in. What a gem of a podcast!"

"A great source of inspiration for aspiring and current product managers! I was already a big fan of Lenny's newsletter and the podcast is another level!"

"This podcast really stands out as an incredibly helpful resource for entrepreneurs and anyone working in tech. I've been listening to every single episode, each of them packed full of insights about building, launching and growing a product. It's really high-quality content, going a lot deeper than other business podcasts I've come across. Lenny's guests are world-class leaders and he goes above and beyond getting them to answer listeners' questions live in AMA sessions on his Slack channel after the show. Keep up the great work, Lenny!"
Available on:
The Product Experience

About the hosts
Lily Smith is the Head of Innovation at Go Compare. She has 13 years of experience in the tech industry, specializing in SaaS and mobile startups. She founded the 800+ member ProductTank Bristol and also leads ProductCamp in both Bath and Bristol.
Randy Silver has been a product manager and producer for almost 20 years in both the UK and the US. He launched Amazon's music stores in the UK and US and was Head of Product at HSBC and Sainsbury's. He also authored the book What Do We Do Now? A Product Manager's Guide to Strategy in the Time of COVID-19.
What listeners think about this podcast
"This is an incredible podcast if you want to learn what innovation is occurring inside the product community. The laid-back, entertaining and focused style that Lily and Randy bring to each interview is energizing to listen to—and helps them to expertly extract those bits of gold from their guests that really help us level up as listeners. Thank you both for bringing such incredible energy and insight to this show!!"

"Great guests with excellent insights to help keep product creators and aspiring product creators alike motivated and focused. If this is you, then you need this podcast! Subscribe and learn from other product creators. You'll be glad you did."
Available on:
Strategy Simplified

About the hosts
The Strategy Simplified podcast is hosted by the senior leadership team of Management Consulted, a company that provides consulting coaching and training. The hosts are:
Jenny Rae Le Roux, ex-Bain consultant and tech entrepreneur
Namaan Mian, Management Consulted COO
Stephanie Knight, ex-McKinsey Engagement Manager
What listeners think about this podcast
"If you're a business undergrad, MBA, or anyone interested in developing your business acumen do yourself a favor and start from episode 1 and go on the journey. Strategy Simplified is your source for business strategy, consulting, and career management."

"Smart, articulate, and perfectly simplified for those interested in to-the-point business opinions and strategies."
Available on:
This is Product Management

About the hosts
This is Product Management is produced by Feedback Loop, a platform that helps product managers get fast and reliable customer input.
What listeners think about this podcast
"You learn something new from the various disciplines of Product Management from thought leaders and innovators. I walk away from each listen as a better Product Manager."

"This is Product Management has a knack for highlighting each and every important aspect of business. If you're looking to expand your knowledge on everything business, then this is the podcast for you!"
Available on:
We'd like to thank Stephanie Walter for incredible help in creating this article.