Activation refers to more than just onboarding and the initial in-product experience. For most products, activation starts long before. It's important to prime potential users in advance, especially for products with extended time to value or a long sales cycle.
Many teams optimize activation by focusing only on onboarding and the user's first session with the product. They think that these stages hold all the key levers for surfacing product value to the user. But that's not true. In reality, activation starts long before a user ever signs up.
When a person is learning about a product, a number of variables directly impact their likelihood of activating:
What people are saying and writing about the product
Positioning and portrayal of the product in the acquisition funnel
Personal context
Level of intent
If you're working on activation, focus not just on the user experience after sign-up, but also on everything leading up to that point. In this article we'll be talking about the key levers for impacting user activation prior to sign-up.
→ Test your product management and data skills with this free Growth Skills Assessment Test.

→ Learn data-driven product management in Simulator by GoPractice.

→ Learn growth and realize the maximum potential of your product in Product Growth Simulator.

→ Join our discussion on LinkedIn. New topics to talk about every week.
All posts of the series (24)
How the pre-signup experience impacts user activation
Picture a group of users for which your product has enough value to ensure a strong product/market fit. This means that if they experience this value for themselves, they will choose this product for the job instead of the other available alternatives.
Right now, these users don't know anything about your product. Let's look at three possible scenarios for how users learn about your product and the impact on how likely they are to see and experience the product's value:
They learn about the product from a friend who has tried it and was unhappy. Their friend was not part of the target audience, so the product did not create value. But the friend still has a bad impression and continues to tell others.

They learn about the product from a Facebook ad when scrolling their feed out of boredom or right before going to bed.

They learn about the product thanks to Elon Musk, who in the user's favorite podcast described his own experience getting to know the product and shared how the product made his life better.
Which of these three scenarios is going to inspire the most target users to activate? The answer is obvious.
In these scenarios, the target audience, merits of the product, and post-signup onboarding mechanisms didn't change. The only difference was in how people discovered the product. This factor has a strong and direct influence on activation rates.
Products for which pre-signup experience matters most
Pre-signup experience impacts the activation rate of any product. A personal recommendation is more likely to inspire activation than a banner ad.
But the exact weight and impact of the pre-signup experience will depend on the product.
For products with a short time to value, the user's experience prior to sign-up is slightly less important. These products have the opportunity to demonstrate their value to the user quickly, inside the product, by delivering an experience right away.
However, the picture is very different for complicated products or ones with a long time to value. The product's intrinsic value is not as important here for activation, because many users will simply fail to ever see it. The value is too far away to reach.
To overcome this distance and reach value, the user must have enough trust and motivation before they ever start using the product. For products like these, the pre-signup experience is absolutely crucial.
Difficulty can arise at the product level if the user doesn't have the knowledge necessary to obtain value. Just think about how much knowledge and preparation are necessary in order to benefit from a motorcycle compared to a scooter. Or using Jira compared to Trello, say.
Difficulties can also be organizational in nature. Delivering Slack's value to a small team is one thing. Delivering that same value to thousands of employees at a large company is quite another.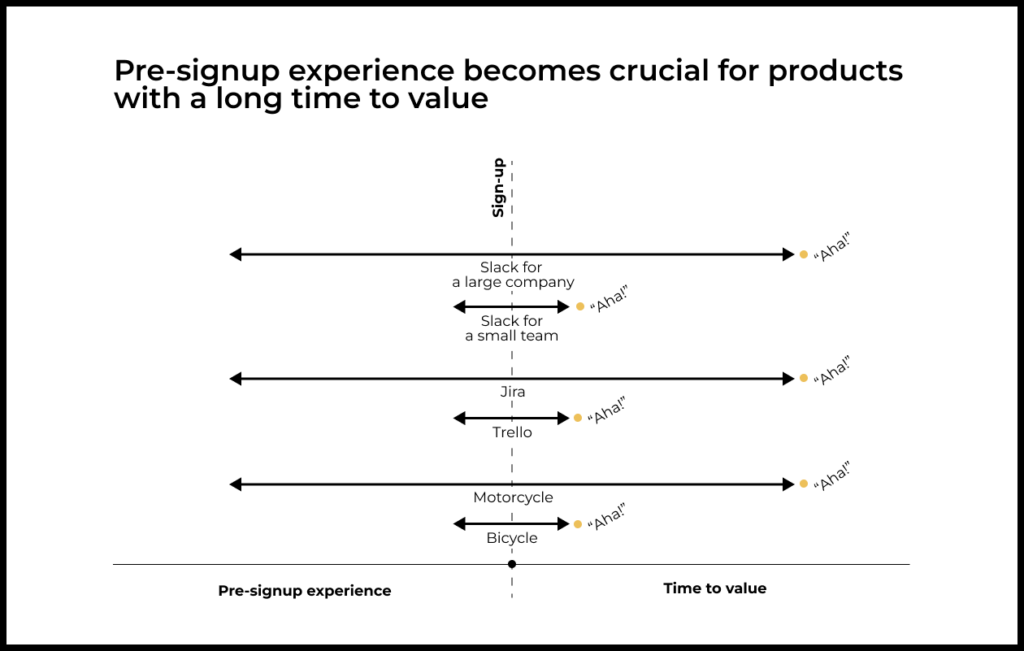 Components of the pre-signup experience
Pre-signup experience is an equally important (and sometimes even more important) variable for successful activation than the onboarding flow and other in-product mechanisms.
This experience is the sum of a large number of components:
How people discover the product
Opinions and reviews that they trust
Situation and context when they find out about the product
Level of intent and motivation at that moment
Brand positioning and visual style
Prior experience with the brand or other products from the company
Other factors specific to the job (in the JTBD sense) or other problem to be solved
Let's go one by one through the main ways of shaping activation prior to a user signing up for your product.
Channel-level levers for improving activation
It's a common mistake to regard user acquisition channels as out of scope when working on activation.
You should always look at in-product activation mechanisms and acquisition channels together. We will describe a few specific mechanisms for improving activation at the growth channel level.
Develop and invest in channels delivering good activation results
Look at how your users activate across your acquisition channels and you'll see that results vary significantly. This is because of both the specific audience and nature of each channel, in terms of how it catches the user's attention and what moment that user is at.
One way to boost activation is to lean hard on the channels that best articulate your product's value.
For example, paid advertising for Dropbox did a poor job of articulating product value. It was hard to find people at the right moment among the broad mass of ad viewers. Context ads flopped because people had not yet formed conscious demand for the type of solution that Dropbox offered.
This caused the economics of these channels for Dropbox to fail. Users coming from these channels were much less likely to activate compared to users from other growth channels.
Ultimately, the Dropbox team concentrated on encouraging virality around a referral program and "share a file" use case.
These mechanisms were much more effective than paid advertising for a few reasons:
Trust. Both referrals and file sharing fostered trust in the product, since the person learned about Dropbox from someone they already knew and who was happy with the product.
Moment and context. These acquisition mechanisms appeared precisely when the user had a potential need for Dropbox.
Using product-appropriate acquisition mechanisms resulted in better activation rates without any meaningful changes in the product itself.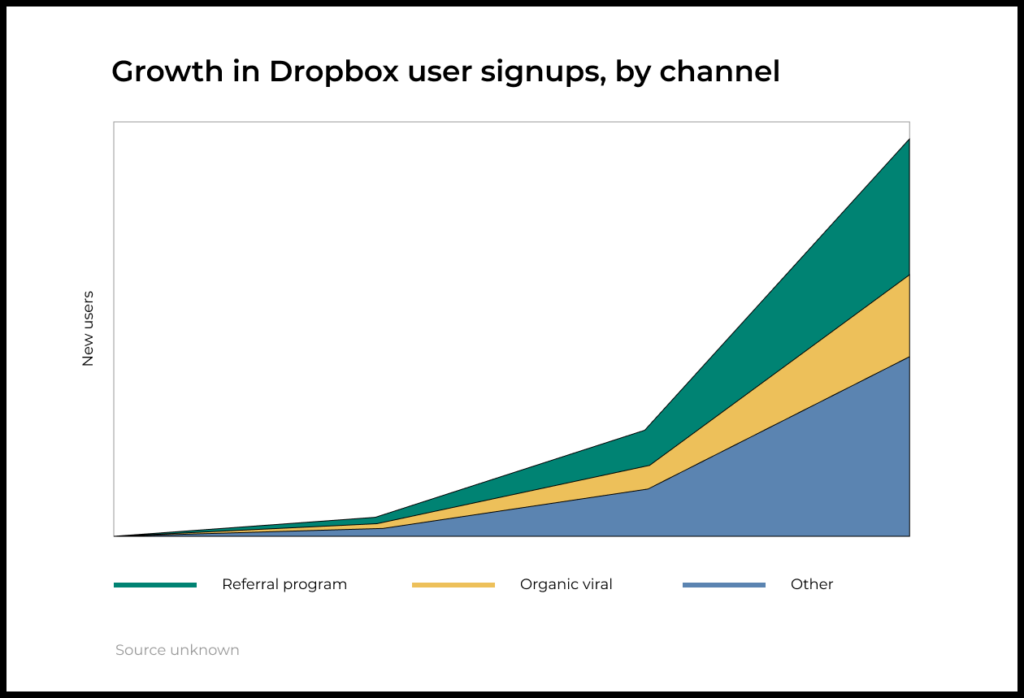 Of course, it's not always possible to reallocate the budget to the most effective channels. Sometimes a company can buy out the entire inventory of those channels, leaving it with no way to scale up its presence.
Avoid burning through your audience with poorly activating channels
Be judicious when investing in channels that currently have low activation rates. If you're not careful, you might burn through your audience, even if the channel economics still show ROI > 0.
This can be especially true for products with a long time to value—users cannot experience a product's value quickly, so they have to base their impression of the product on other information.
GoPractice educational products, for example, have a long time to value. Students have to invest a lot of time and effort in order to obtain value and reach their goals. That makes it important for new users to be motivated and understand how the product can help them.
Theoretically, a "quick" way to acquire users for GoPractice simulators might be to combine low-end affiliate marketing with doorbuster discounts. Some users would make an impulse buy at the wrong point in their life. They wouldn't have enough motivation or time, which means they wouldn't get the right product experience, and therefore would fail to reach their goals.
This negative experience would degrade word of mouth, the quality of the community, and user-generated reviews and recommendations. In the right circumstances, these same users could convert into happy clients at a different stage of their career path where GoPractice products would be more relevant to their situation. These users' impact on word of mouth and perception of value would be radically different (and much better).
Or take Workplace from Meta, the corporate social platform. Imagine lots of new users coming to the product due to a free-to-the-team version intended to encourage upsales.
But seeing Workplace for the first time, many of these users will have absolutely no idea of what Workplace is, what it does, why they need it, or why to use it. Even worse, they will be in the wrong context to start looking for answers to these questions.
Because of the long time to value and complicated process for onboarding at new companies, which requires "selling" Workplace to colleagues and management, these users will not be successful and will get the impression that Workplace's value for them is murky at best.
The problem is that these users' negative experience makes it less likely that their company will ever activate:
First, the company already has a Workplace collaboration space (there is one per corporate email domain). Any future users whose email addresses contain the same domain will have the subpar experience of seeing an uncustomized and unconfigured space with no active admin.
Second, even if some people at the company later see value and champion Workplace for broader use, those previously dissatisfied users will likely object. Successfully introducing a communication product requires a consensus.
User burn-through is less of a risk for products with a short time to value. The relevant users can quickly reach added value, which will determine how they think about the product. But even if the time to value is short, you still have to be careful with channels that have a low activation rate. At a minimum, make sure there are no second-order effects that could drag down your entire growth model.
Say that you have two channels for reaching users from a target market segment where the product already has product/market fit. The team has successfully attained positive ROI in both channels:
The first channel scales easily, but has an activation rate of just 30%.
The second channel doesn't scale as well (it grows only with the active audience) and has an activation rate of 90%.
In this situation, leaning heavily on the first channel can hurt the chances for long-term growth. At best, it will convert 30% of the target market segment into loyal clients. Yet the second channel will eventually overtake the first one and activate 90% of the target market. It will take longer, of course.
Preventing audience burn-through is important when there's a chance that the wrong channel will ruin a user's first impression of the product. Convincing the user to give a second chance later will be very difficult.
Achieve product/channel fit in inaccessible channels with in-between products
Not all products work for all growth channels. In this article we examined how the Workplace from Meta team tried to deliver growth with internal channels. If this had worked, it would have given a huge boost and, frankly, "unfair" advantage over competitors. But ultimately, Microsoft Teams succeeded at this instead, gaining a decisive edge toward market leadership.
Growth channels are product-specific. Products with a long time to value or that are needed at very specific times in a person's life will not benefit from mass advertising. For simple products aimed at a mass market, however, sales mechanisms need not be complicated.
Returning to the example of GoPractice, the user has to be highly motivated and at a certain point in their life in order to benefit. Facebook ads will not deliver this kind of person.
In cases like this, the team can create an in-between product that better fits a specific sales channel as a sort of stepping-stone to the main product.
This might mean developing a simplified product version that is well suited to a particular channel. For GoPractice, this is the Skills Assessment Test, which enables reaching target users via channels where the main products don't fit.
Content marketing can be another solution. A16z puts effort into media and publishes research to build a relationship with target users and potentially convert them into clients down the road.
In essence, you create a bridge for reaching target users in channels that are inaccessible to your main product, while leaving the opportunity to upsell later.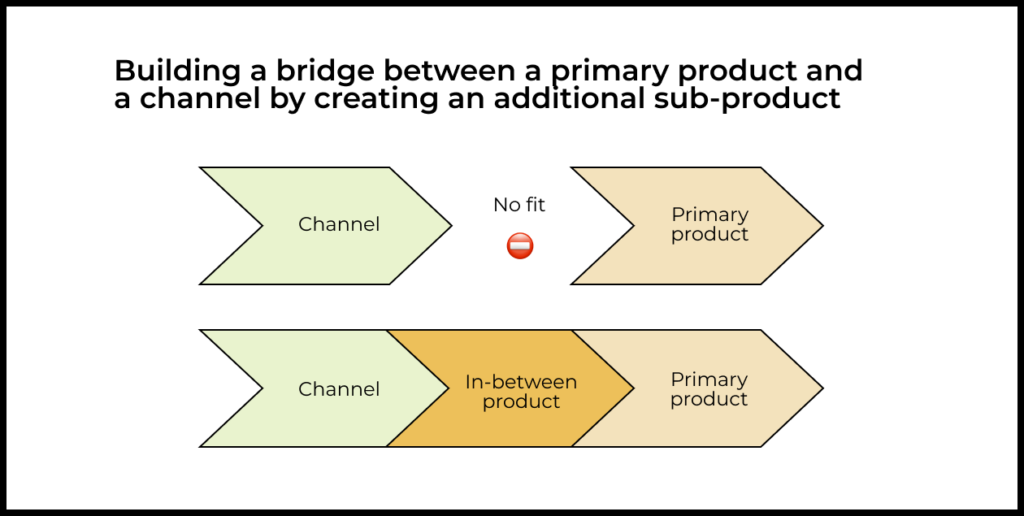 Fit activation and channel to each other
To boost activation, you can build acquisition mechanisms that send surefire signals about the user's goal. This knowledge can help to customize the product in a way that shortens the journey to value.
Consider Zapier, a service that helps to automate data entry by aggregating accounts from multiple services.
Organic search is an important channel for Zapier user acquisition.
Making the search channel work required making a large number of Zapier landing pages based on the user's specific goal: automating Google Docs, automating CRM, or automating Google Ads, for example.
A user wanting to automate tracking of their Amazon balances will have a different optimal activation path than a user who wants to automate export of data from Google Sheets. If these two users land on the same Zapier page, neither will understand how Zapier can help them.
Activation will be much more likely if each user lands on a specially crafted page that describes how the service will solve their very specific need. Creating such pages for any number of possible use cases certainly improves search engine traffic to Zapier's site, absolutely—but it also makes activation more effective.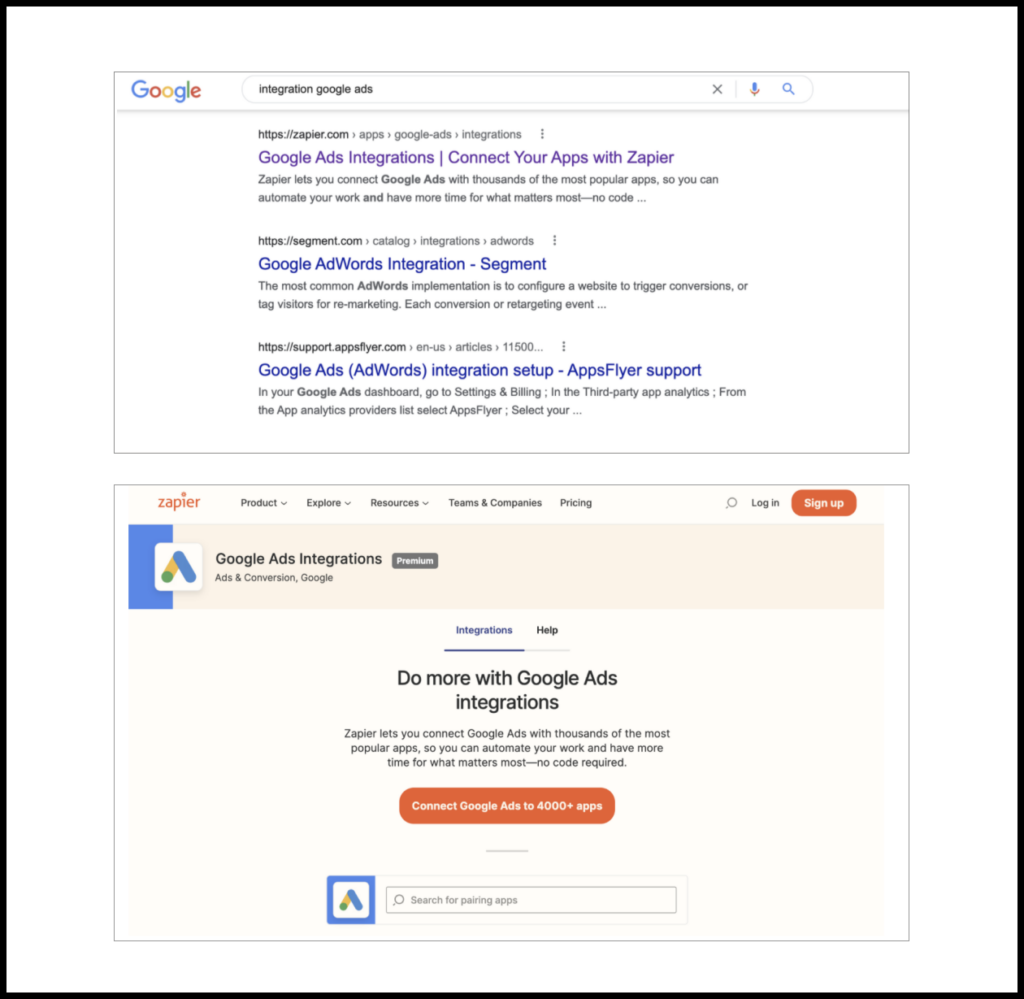 Be crystal-clear in positioning what your product does and who it's for
Another important lever for improving activation at the channel level is precisely positioning the product at every single user touchpoint.
At every step of the acquisition funnel, the potential user must be extremely clear about what job the product does and how well it fits their needs.
A restaurant offering family-style breakfasts, a restaurant for celebrating a wedding anniversary, and a restaurant with quick casual cuisine will use different visual styles and mechanisms to communicate.
This communication and styling help to set correct expectations. Users can see in advance whether the specific solutions being offered are appropriate for them and their situation.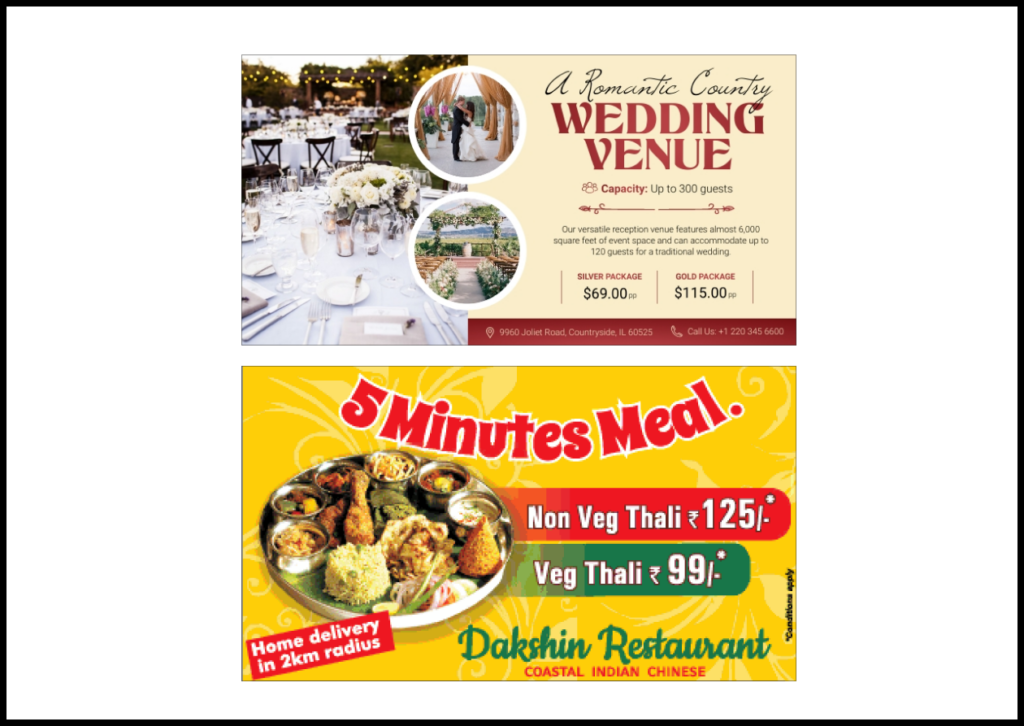 Activation levers: trust and motivation
Here's a quick overview of methods for boosting motivation by increasing trust and motivation before users ever sign up:
Trust-building acquisition mechanisms
Trust can be formed with conducive growth channels: word of mouth, influencers, PR, etc.
A user will be more trusting if they learn about a new product from a colleague or an influencer they've been following for a long time.
If it seems that these tools are limited or constricting, remember to use them creatively! You can make content or other products in collaboration with industry experts, for example. You can target satisfied clients and help them to share their experience with your product. You can build a community around your product or give swag to the most active users to encourage them to evangelize in your target segment.
Acquisition mechanisms with instant user value
Don't forget that for gaining trust and motivation, you can acquire users by offering them instant value.
One way is with content marketing. If a post on your blog helps a user, they're more likely to trust your products.
A second way could be to create free product versions. The free version of Slack, for example, serves a marketing function for the company by making a beachhead at companies and teams.
Creating value for users helps to build a relationship with them, which strengthens their trust and motivation to use your product.
Reviews, community, evangelists
Many of the key processes for finding a solution to the user's problem take place outside of your product.
The user might look for reviews on third-party sites, compare your product to the alternatives based on different criteria, ask for advice from people they know in the community, or discuss it with their team.
Though you can't impact these processes directly from your product, you still have ways of nudging them indirectly.
If you know that users are looking at reviews or asking colleagues before they buy, you can invest in encouraging satisfied clients to share their impressions or finding and building relationships with brand evangelists.
Others: brand building, scarcity effect
Methods for building motivation and trust will vary widely based on the job that your product is supposed to do. Sometimes this can mean working with celebrities, advertising to build your brand, or even artificially limiting access to your product to generate buzz and exclusivity.
It's important to perform qualitative research to identify these mechanisms and incorporate them when working on activation.
User activation starts long in advance
In this article, we've discussed why activation is so much more than just onboarding and the user's first session with a product. Activation truly begins long before the user signs up or even sees your product's landing page.
How people learn about the product, what others are writing and saying, how the product is positioned and portrayed in the acquisition funnel, what context the user is in when they discover the product, what the user's level of intent is—all these are important variables directly impacting the success of activation.
The pre-signup experience is particularly important for products that are complex or have a long time to value. These are situations when a product can't "sell itself" because value is too far away and most users simply don't have the capacity to endure a long value journey.
You have a number of ways to improve user activation at the growth channel level:
Adjust your marketing mix to invest in channels with good activation rates.
Avoid burning through your audience—don't ruin their first impression with channels that have bad activation.
Create in-between products to achieve product/channel fit for channels that otherwise would be inaccessible.
Fit channels to activation (and vice versa) based on use case and value.
Be crystal-clear in your positioning: what does your product do and who is it for?
Also consider building up users' trust and motivation before they ever experience the product:
Use acquisition mechanisms to build trust.
Use acquisition mechanisms to offer immediate value to users.
Work on reviews, community, evangelism, and brand ambassadors.
Think about branding and exclusivity.