When plowing ahead with product creation, it's easy to start talking about a product from the viewpoint of the people who make it. But then we risk overlooking how the product actually creates value and helps users. If this happens, activation takes a turn for the worse.
Here we'll be demonstrating the value communication framework. This is a way to imagine yourself as the user. With their job-to-be-done in mind, you analyze the key headers, texts, visuals, sales scripts, and other elements to see whether they articulate value as seen by the user.
You will be able to discover where communication issues lurk and then fix them to articulate value in language that resonates with users.
→ Test your product management and data skills with this free Growth Skills Assessment Test.

→ Learn data-driven product management in Simulator by GoPractice.

→ Learn growth and realize the maximum potential of your product in Product Growth Simulator.

→ Join our discussion on LinkedIn. New topics to talk about every week.
All posts of the series (24)
Why communicating value matters for activation: an example
Below is a chart of the session-to-checkout conversion rate for brain supplement maker Heights.
The team doubled conversions on their site over the space of several months. Changes in copy—the wording they used to communicate their product's value—were pivotal in making this happen.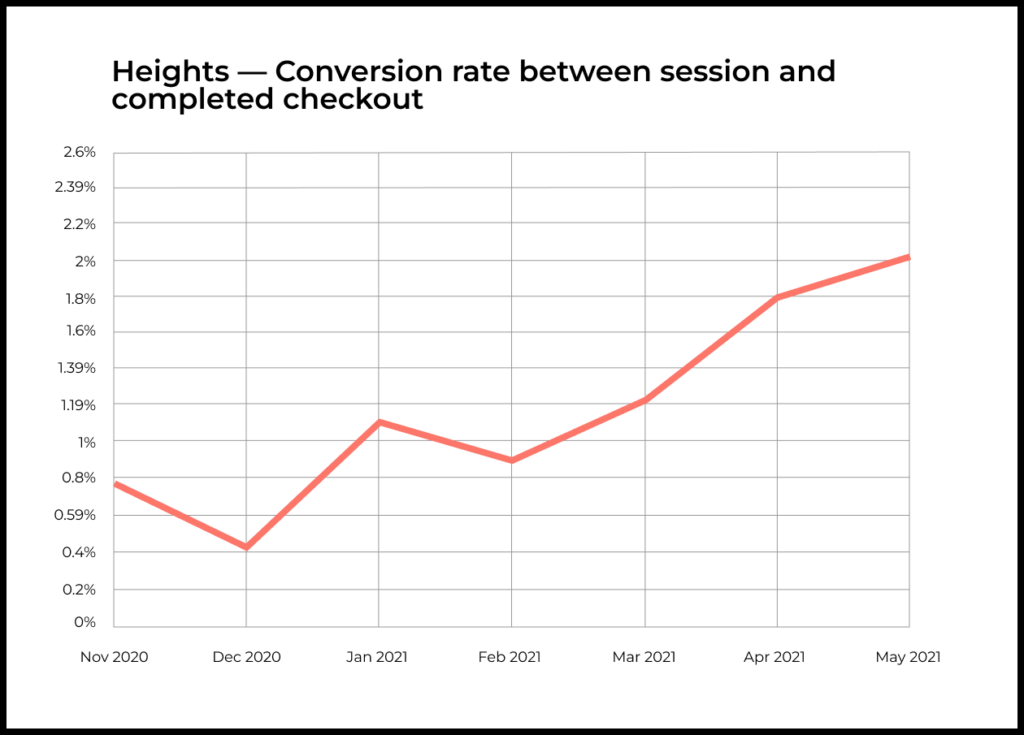 Previously, communication centered on what the company does. Their copy was all about the brain and the ability to boost it with their product:
"The highest quality nutrients for brain health."
"Your brain keeps you moving, breathing, learning. And yet, 99% of us don't feed our brain what it needs. Do you?"
"Heighten your energy / focus / sleep / memory."
"Your brain likes it easy."
"Top-quality nutrition for a fog-free, more focused brain."
But this was not at all how users actually perceived value. That's why "brain-focused" communication failed to resonate. Users thought about the product's benefits in a completely different way.
The team decided to experiment with re-focusing communication on user jobs-to-be-done and how the product helps users to solve them. Conversions grew dramatically.
Here is the first successful experiment by the team, which increased conversions for the site's main page by 15.8% and the product page by 12.4%. They began to emphasize the benefits that the client gets from the product.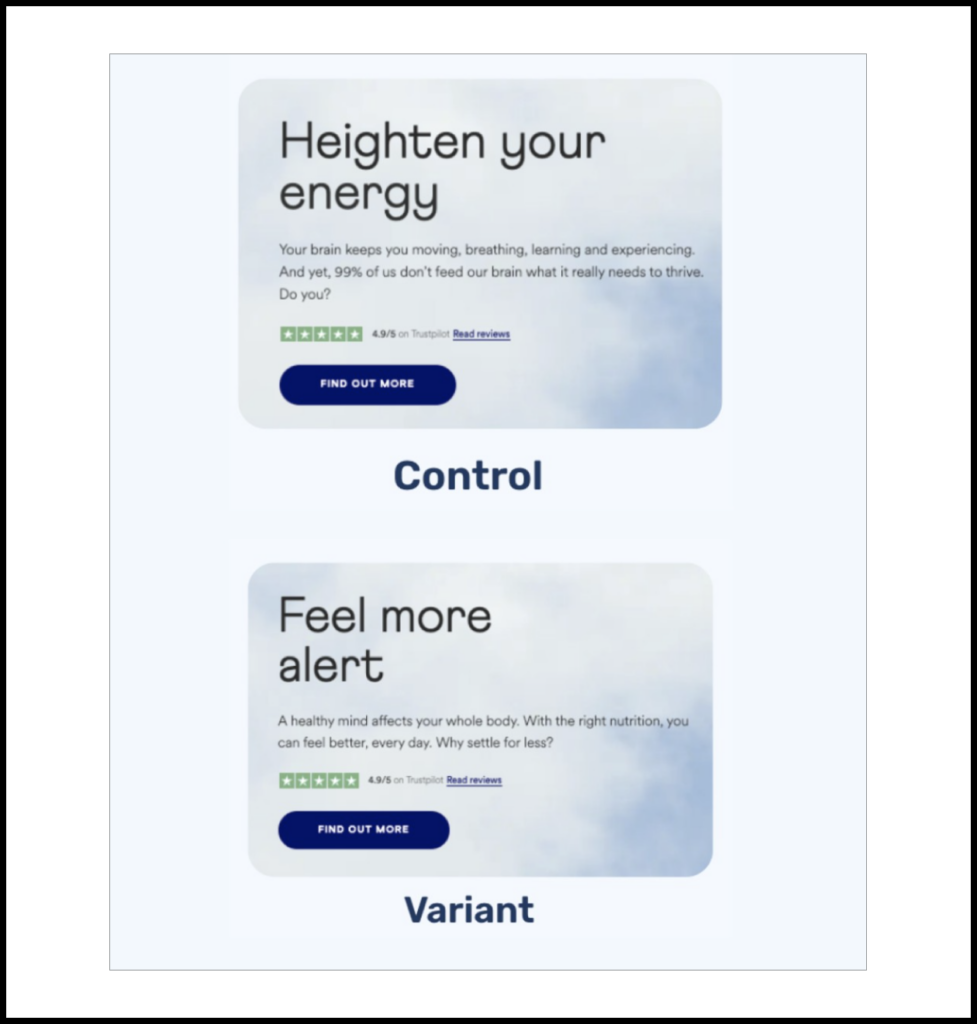 The team followed up by testing various value propositions in Facebook ad campaigns. This was a much faster way to get a feel for the language that resonated best with the target audience.
The experiments showed that communication worked best when it centered on the problems in people's lives that the product helps to solve. For example, difficulty staying focused or getting a good night's sleep.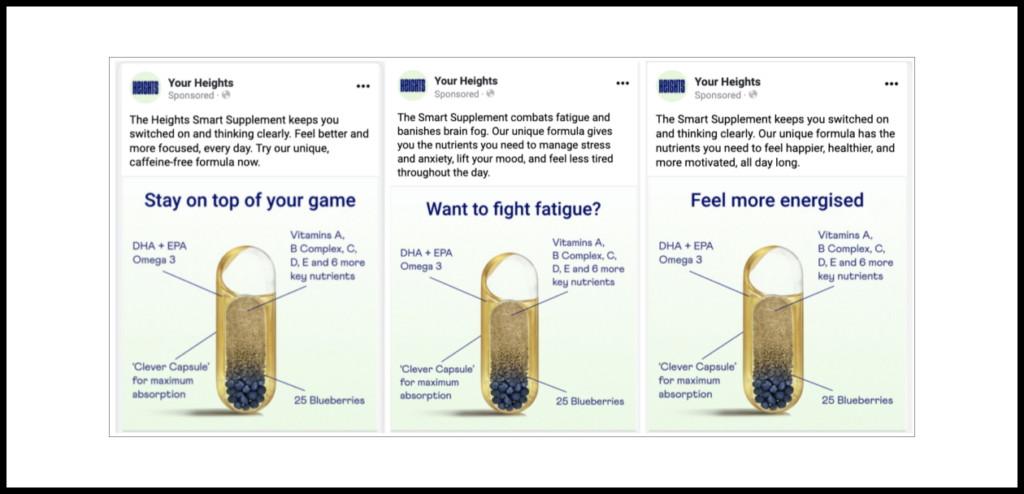 Amplifying the most successful wording by putting it on the main site, plus running ongoing experiments, enabled communicating value more effectively and improving conversions.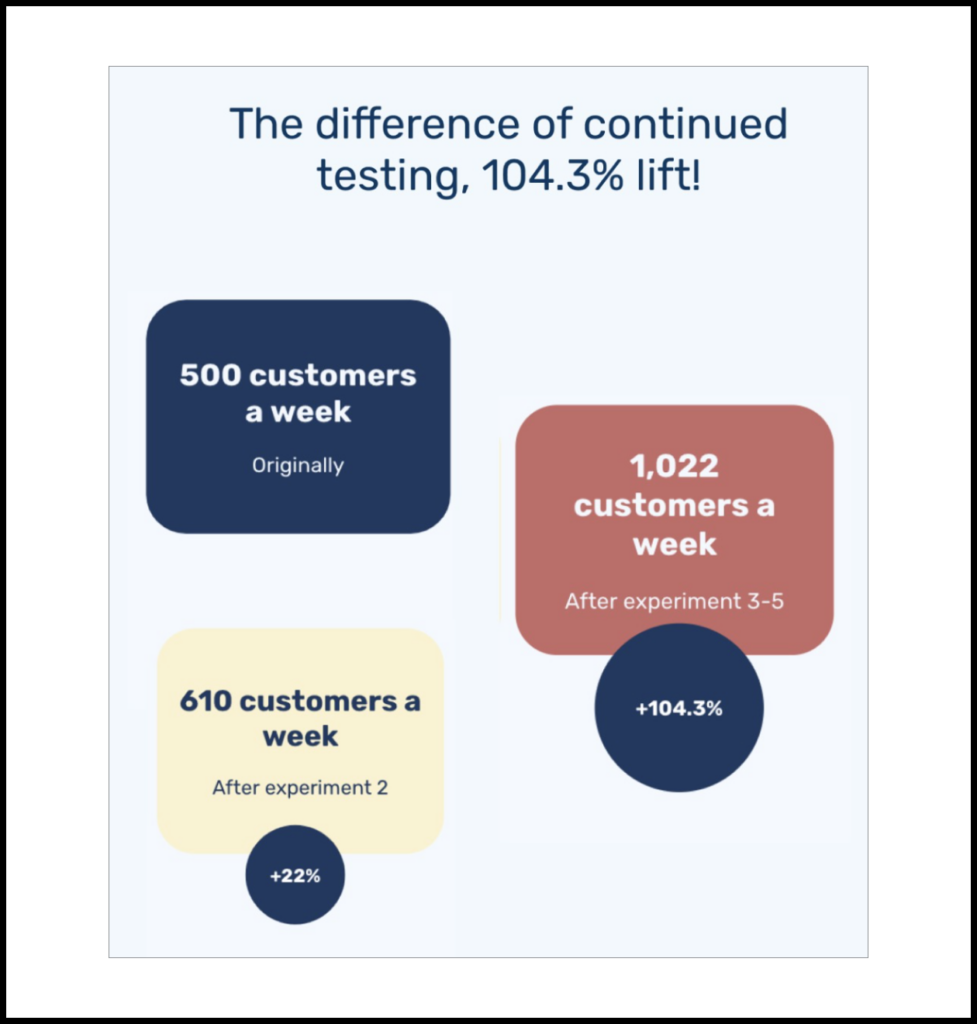 Read more about Heights and its experience in the case study here.
Of course, better copy can't always deliver such massive lift. But it does happen. Here is another example of how reworking communication significantly accelerated product growth.
What the value communication framework does, as we describe in more detail below, is help identify problematic areas and measure the potential for improvement.
When to apply the value communication framework
The best time to apply the value communication framework is near the very end of your activation work. Think of it as the cherry on the cake. The framework will help to articulate value, but it can't solve deeper structural issues.
You should do a few things first to build a solid foundation and structure for activation:
We build activation from the bottom up by starting with the fundamentals. So we look at JTBDs and added value before working on the mechanisms for delivering and communicating that value. Structuring the flow comes before optimizing individual steps. Only after we've completed these preliminaries do we start thinking about specific language for communicating with the user.
"Communication" here refers to more than just text—it includes all the visuals, onboarding and sales scripts, interaction with technical support, emails, and other touchpoints during user activation. For IKEA, for example, assembly instructions for the company's furniture are an important part of communication.
The goal is to orient all of the elements of communication in the direction of articulating the product's added value. This means communicating clearly and in a way that resonates with the user.
What you need to get started with the value communication framework
To get started applying the value communication framework, have the following information available and ready to refer back to:
Overview of product's objective value
Key jobs-to-be-done with product/market fit
Alternatives on the market
Added value compared to competitors
Overview of how value is delivered for each JTBD
CJM showing the user's journey from discovering the product to reaching value on all key levels
Experience prior to starting use of the product: context, triggers, and acquisition channels
Notifications
External processes
All these topics have been covered in our series of materials on activation as well as our series on the fundamentals of product management.
Step by step: applying the value communication framework
Getting ready
Below we give instructions for applying the value communication framework to any given job-to-be-done. Start by doing two things:
Select a specific job-to-be-done. We've already discussed why it's important to analyze activation separately for each JTBD.
Complete the Customer Journey Map for that JTBD. Take screenshots and collect all the call scripts, notifications, emails, and other touchpoints on the user's path to value.
We now scrutinize each element in this activation flow based on what we know about the product's objective value, value perception, user position in the flow, and target action corresponding to that position.
Applying the framework
Review every element the user encounters during each activation step and outline it in either green or red.
Outline an element in green if it communicates value from the user's point of view or helps to articulate it. This element might:
Articulate added value from the user's point of view, in language they understand ("the product will help you to save 40 hours a month", "currently you spend $X, but you can get it done at half the price").
Anticipate doubts or reservations ("is the product truly for me?", "what will they do with my personal information?", "is it safe to enter my credit card number on this site?").
Strengthen motivation and communicate value on an emotional level (social proof, visualization of the user's desired result, exciting or emotional wow moments, a reminder that drops the user back into the activation flow).
Reduce friction (explain what exactly to enter in a specific field, describe how to find any needed information, help the user to understand their progress on the path to value).
If an element does not communicate value and does not help to articulate it, mark it in red. This element will have a rather different effect because it:
Describes the product's features instead of explaining how they will help to improve the user's life ("our product can do X and Y").
Explains value with language that is focused on the company, not the user ("it enables your brain to work more effectively").
Describes the technology behind the product, instead of the benefit for the end user ("based on cutting-edge artificial intelligence").
Provides information that is not relevant to the user in the context of their JTBD (the user wants to integrate two particular services, but the product is proclaiming its abstract ability to integrate with thousands of different services).
Asks the user to do something without explaining why this is necessary or how this will help to accomplish their goal.
Remember that this analysis should go beyond just the activation flow's text and UI. Be sure to include sales and support scripts, notifications, and any offline communications.
Taking stock and moving forward
By this point you will have a very "colorful" view of your activation steps. More red elements on a particular screen mean that you are failing to communicate value there.
Now you can work to improve any sections or elements that are currently red. Doing this will mean re-centering communication around the user and their view of how they benefit.
How to make communication happen
Any changes should be informed by a deep understanding of user JTBDs for which product/market fit has been achieved, as well as of how users perceive value and the language they use to describe the product's benefits.
One way to facilitate the process is with UX testing or manual onboarding. Ask real users to point out things that are confusing or unclear. Analyze what resonates with them and gets them excited about your product.
You can also test ad creatives on Facebook to see which value propositions "hook" your target audience most. The case study for Heights, which we've just mentioned, is a great overview of how to integrate this approach into your processes.
Value communication framework in action: an example
JTBD
With the following example, we will illustrate:
How to use the value communication framework for a specific JTBD.
Why to use the framework only when you're finishing up your activation work, after addressing any deeper structural problems first.
John is in Malaysia. He wants to send £3,000 to the United Kingdom—this is his job-to-be-done.
To accomplish this JTBD, John needs to do three things:
Find a money transfer service.
Find out timing and fees.
Send the transfer.
A potential solution: Maybank
John's first thought is to try out Maybank, one of Malaysia's largest banks. He sees their branches and advertising all the time.
He goes to the Maybank site, where he sees vague headers about the bank's mission and goals. But the service he needs (international transfers) is hidden deep in a menu on the bottom of the page.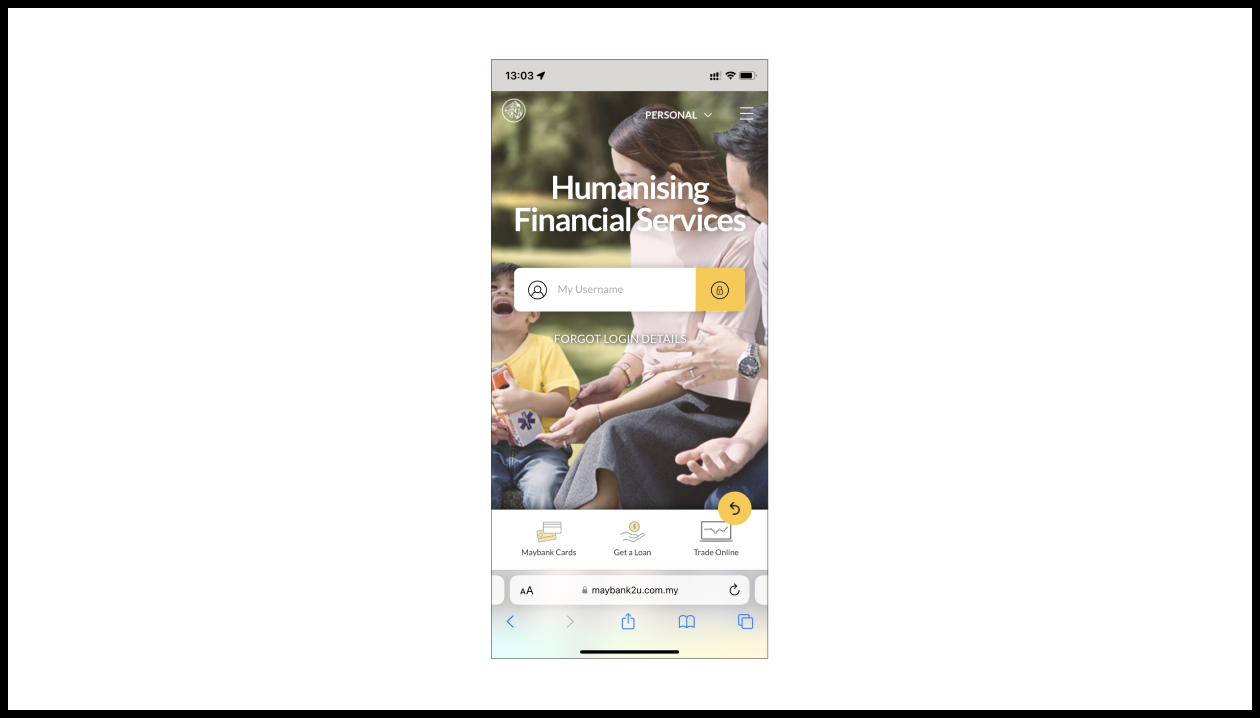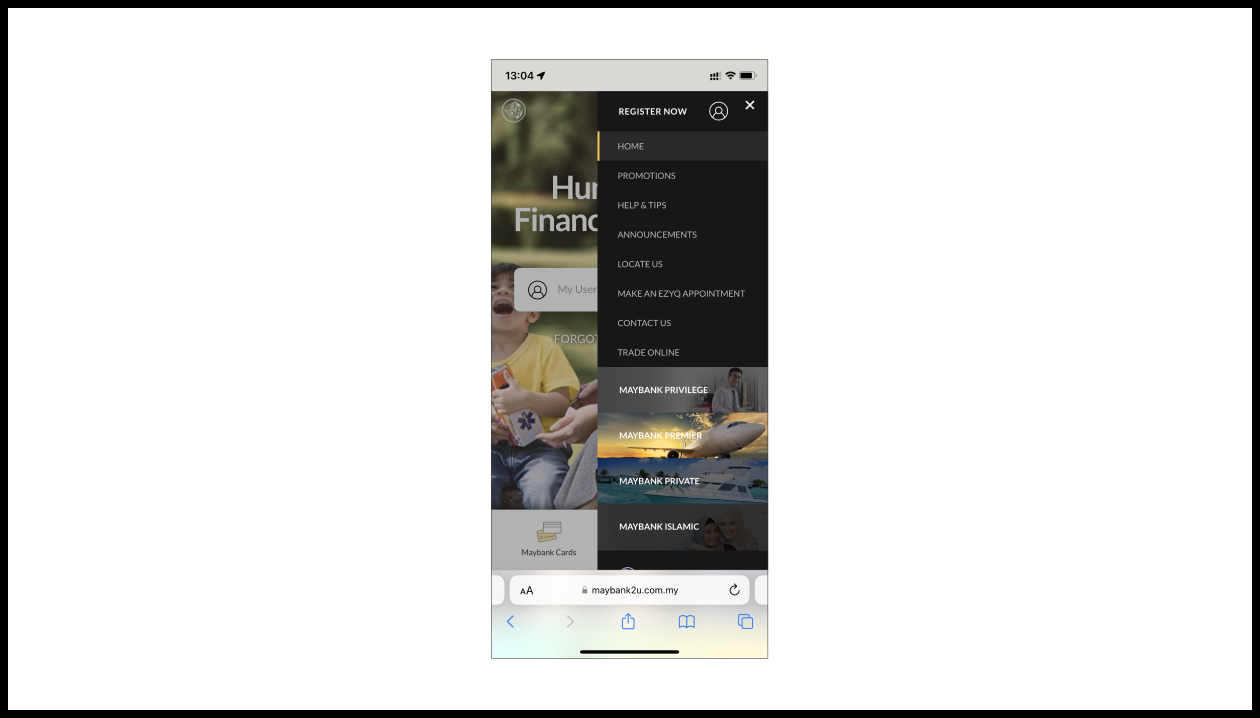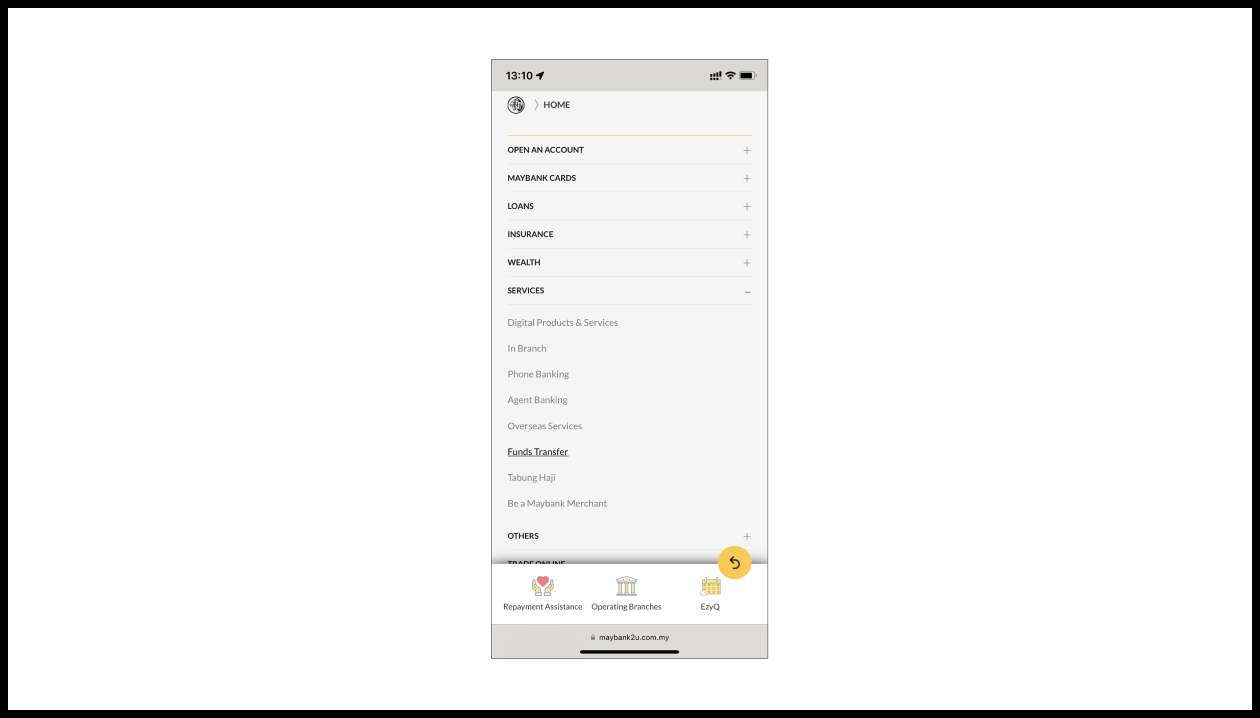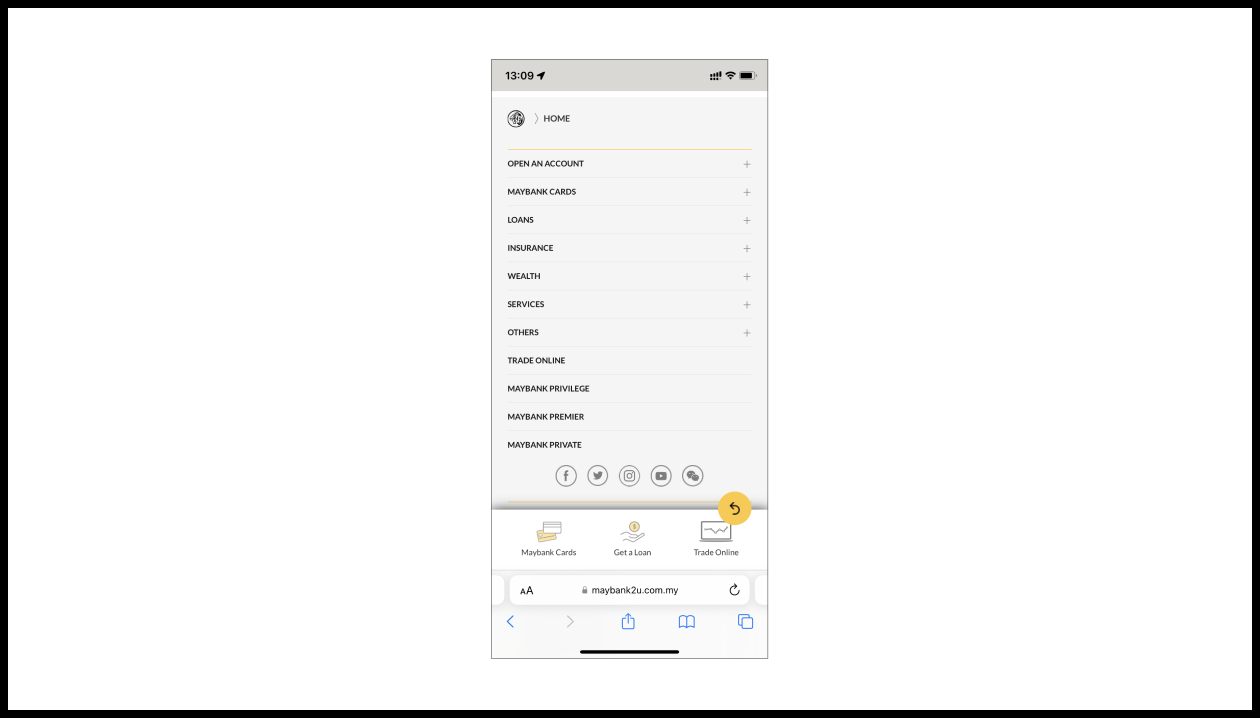 This is an illustration of why the value communication framework should be applied during the final stages of activation work, only after structural issues have been addressed.
The site very obviously is not optimized to John's JTBD of transferring funds. For people who aren't already clients of the bank, activation will probably stop here. Not realizing that Maybank can transfer money, they will decide to use another service.
Applying the value communication framework to these screens would be premature and pointless. If transferring funds internationally is an important use case for the bank, then these questions need to be tackled on a much deeper level.
But we'll stay with John, who is more persistent and dogged than most users. He finds the page for money transfers, and at last we can start applying the value communication framework.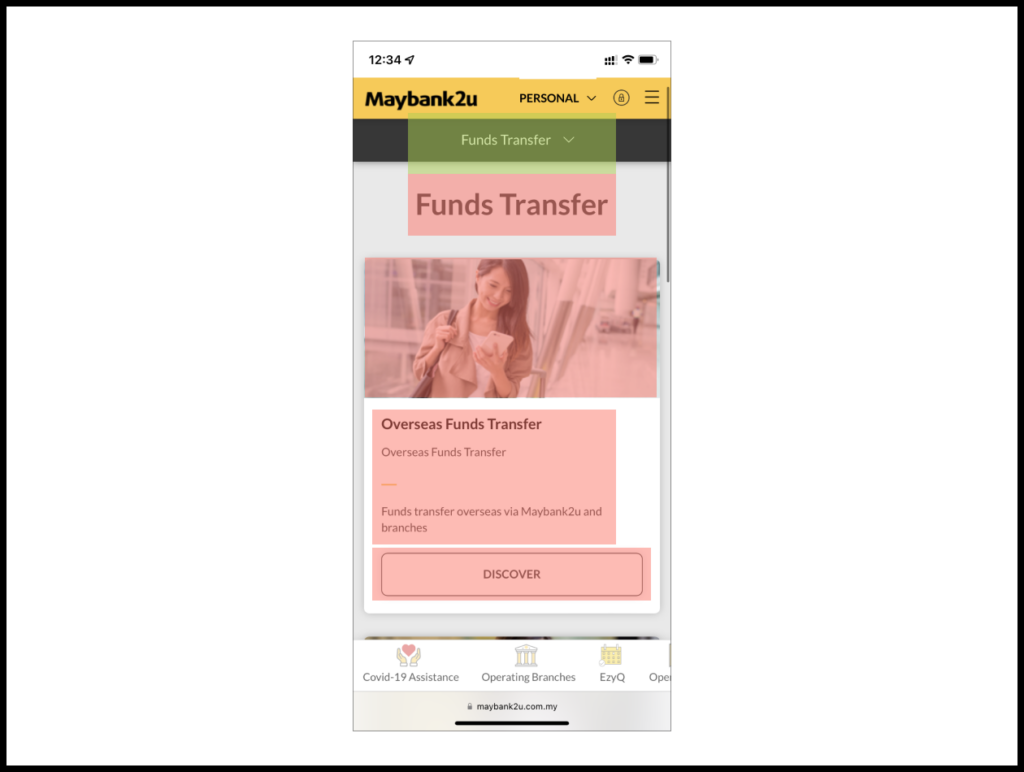 The header "Funds Transfer" indicates that John has found the banking service that he needs.
But then we see constant repetitions of this phrase scattered in headers, subheaders, and descriptions: "Funds Transfer", "Overseas Funds Transfer" (twice), and "Funds transfer overseas via Maybank2u and branches". This doesn't give John any new information or help him with what he wants to do. Worse still, the wording creates confusion.
The photo of a woman looking at her phone is uninformative and not helpful for John's JTBD.
The concluding button, "Discover", is not an obvious call to action for this situation. But there aren't any other CTAs here so he taps it anyway.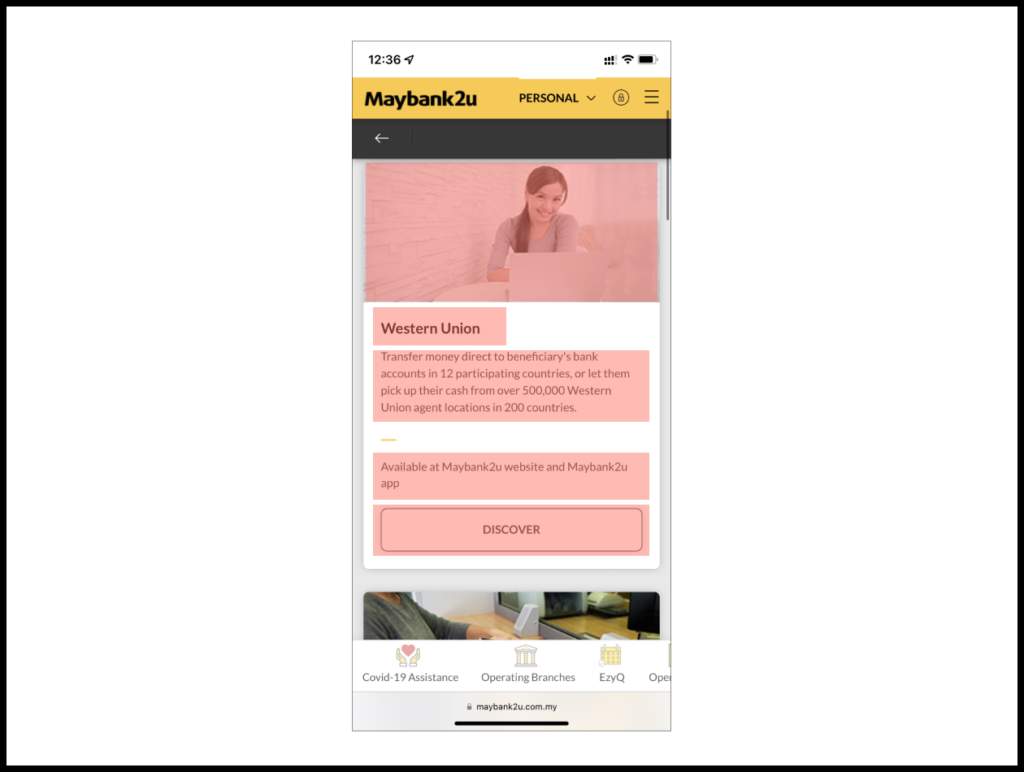 The next screen also starts with a photo that has nothing to do with John or his JTBD.
Now comes a description of Western Union (which John has never used, although he knows that it's used to send money). But this just confuses him more. Which company is actually performing the transfer? Maybe he should just go directly to Western Union?
The description is full of corporate-speak. 12 countries, 500,000 agent locations in 200 countries—these are just numbers that reflect the size and scale of Western Union. Yet none of these numbers indicate the ability to help solve John's JTBD of sending money to a particular country.
Then we see that Western Union is available from the Maybank2u site. That's nice, but John is already on the site and still hasn't seen a way to accomplish his JTBD.
Once more, we see a "Discover" button.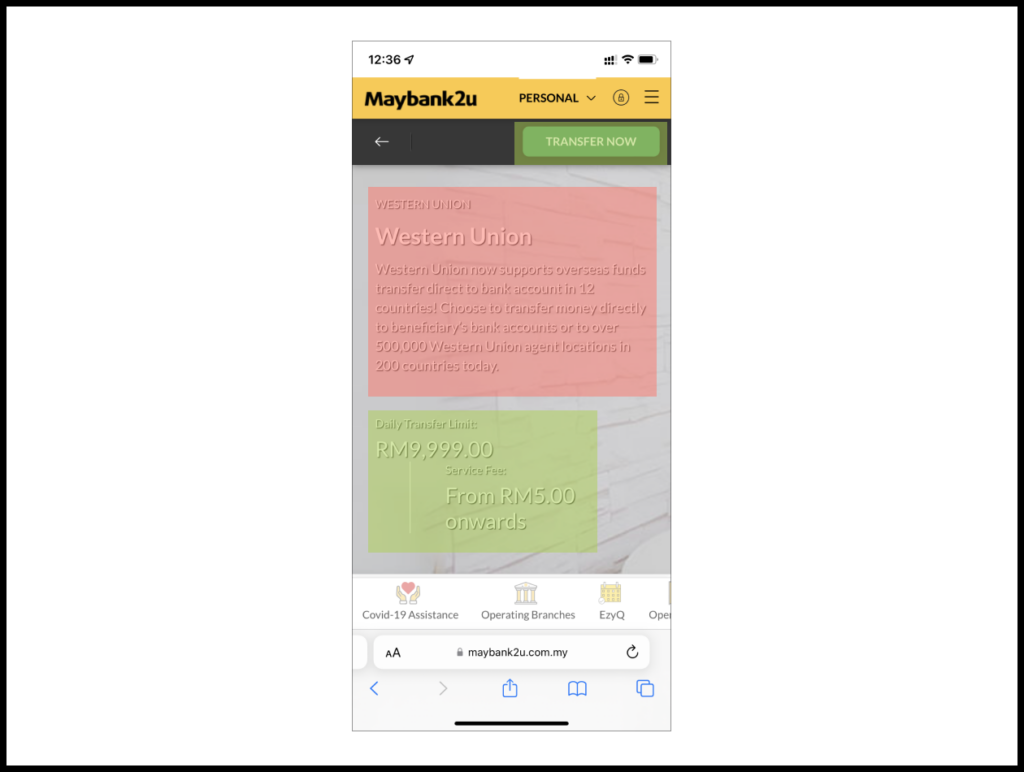 On the top right, there is a button saying "Transfer now". This is a clear call to action for John's JTBD. John gains hope: maybe he can accomplish his goal.
But first, let's look at the rest of the screen.
The first part starts with repetitive "Western Union" references and the same corporate-speak about agents and countries. None of this matters to John.
The second part is much more interesting. It gives an idea about pricing in the local currency, Malaysian ringgits (RM). But John's hopes are then dashed. Western Union doesn't support the amount John wants to send.
This is because the amount John wants to send (£3,000) exceeds the daily transfer limit (RM 9,999). To figure this out, John has to use Google's exchange rate calculator.
So it turns out that Maybank can't help John accomplish his job-to-be-done. But to find this out, John had to slog through irrelevant information on numerous screens.
A potential solution: Wise
John asks for advice from his coworker Dave, who made a similar transfer not long ago. Dave's answer is short and to the point: "Try Wise, it's fast and cheap."
John performs a web search for Wise and finds the site in the search results.
Here's what he sees: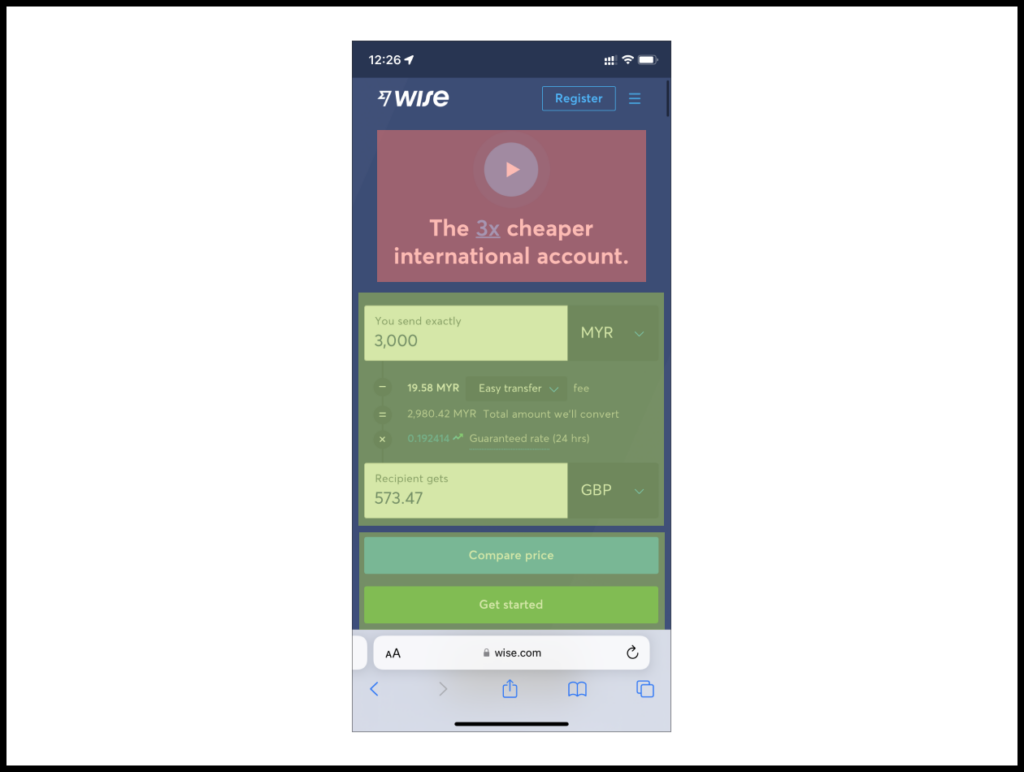 The top banner (with play button) offers him "The 3x cheaper international account". John doesn't need an international account, so he skips over this.
Below, he can calculate the cost of transferring funds. The calculator shows how much it will cost to make a transfer. Enter an amount in Malaysian ringgits (MYR) and the calculator will show the corresponding amount of British pounds (GBP) that will be received.
The calculator shows upfront what the transfer fee will be. This is what John very much wants to know.
Below it are buttons for comparing pricing and starting a transfer.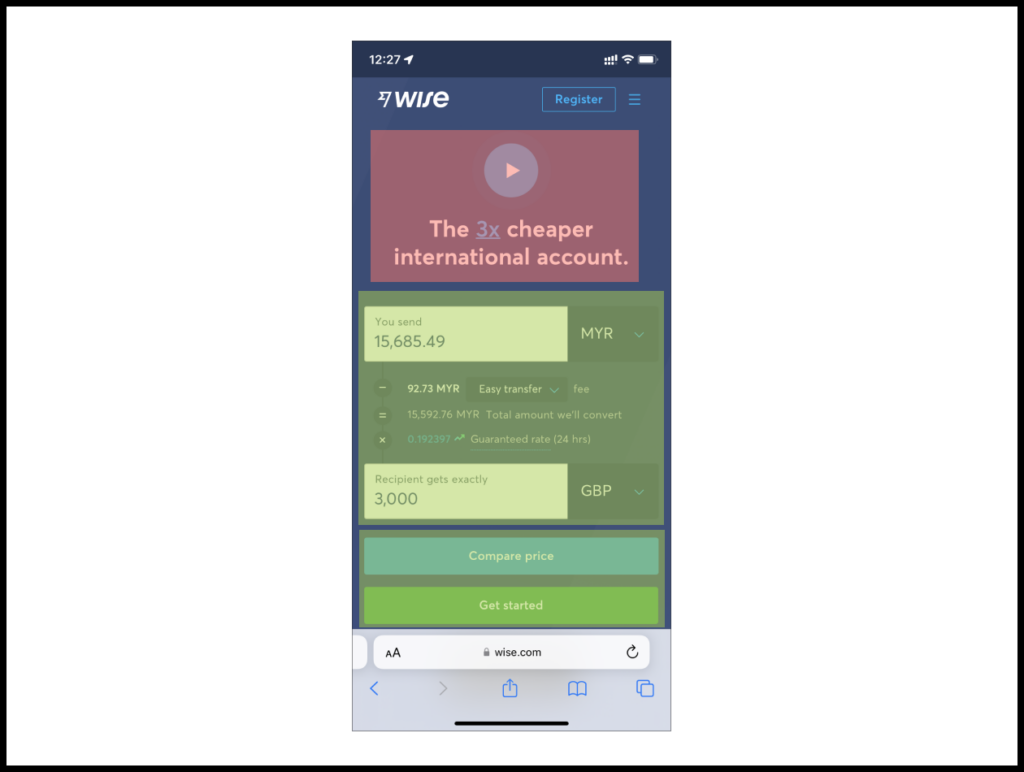 John uses the calculator to see how much he would pay to transfer £3,000.
The transfer would incur a fee of RM 92, so the amount to convert would be RM 15,592 at an exchange rate of 0.19. This clearly stated information is critical to John's JTBD.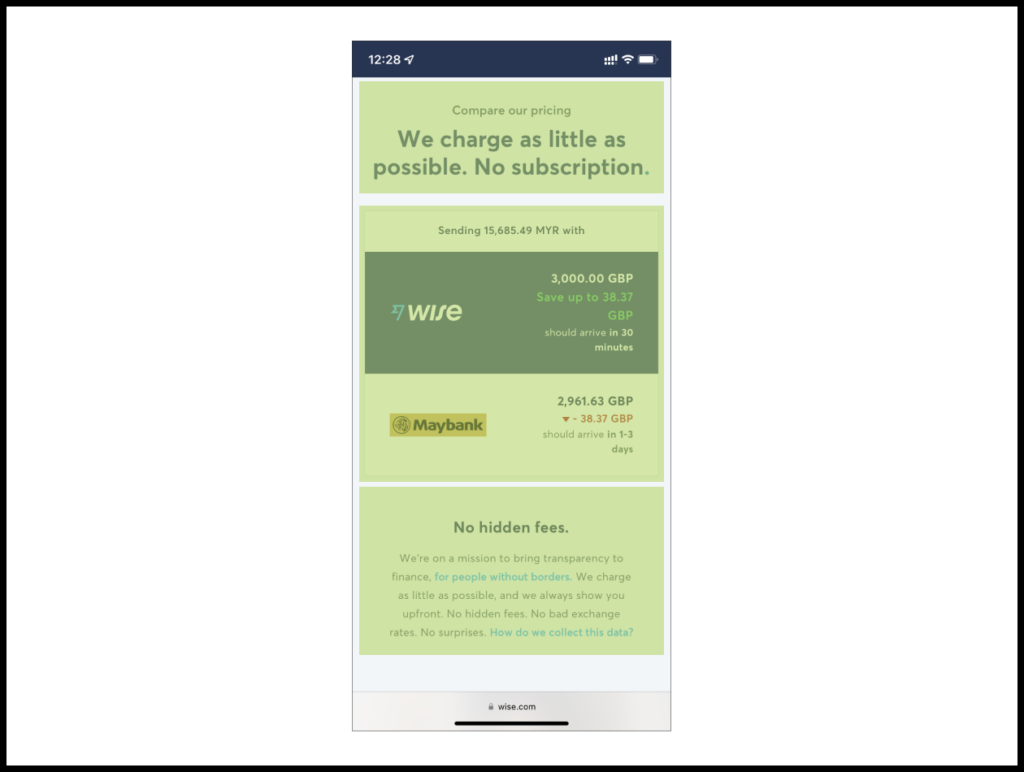 John picks "Compare price".
Up top, he reads that Wise takes a minimal fee and doesn't require a subscription. This strengthens his motivation.
Then John can compare the cost and time needed to transfer funds with Wise versus Maybank. Wise will save him £38, with the funds arriving in just half an hour (compared to 1–3 days with Maybank). This succinctly articulates the added value of Wise over the competition.
Below this, Wise states that it does not charge any hidden fees. This is complemented by user-oriented text that is written in simple and easy-to-understand language. This information helps to ease doubts and strengthen motivation.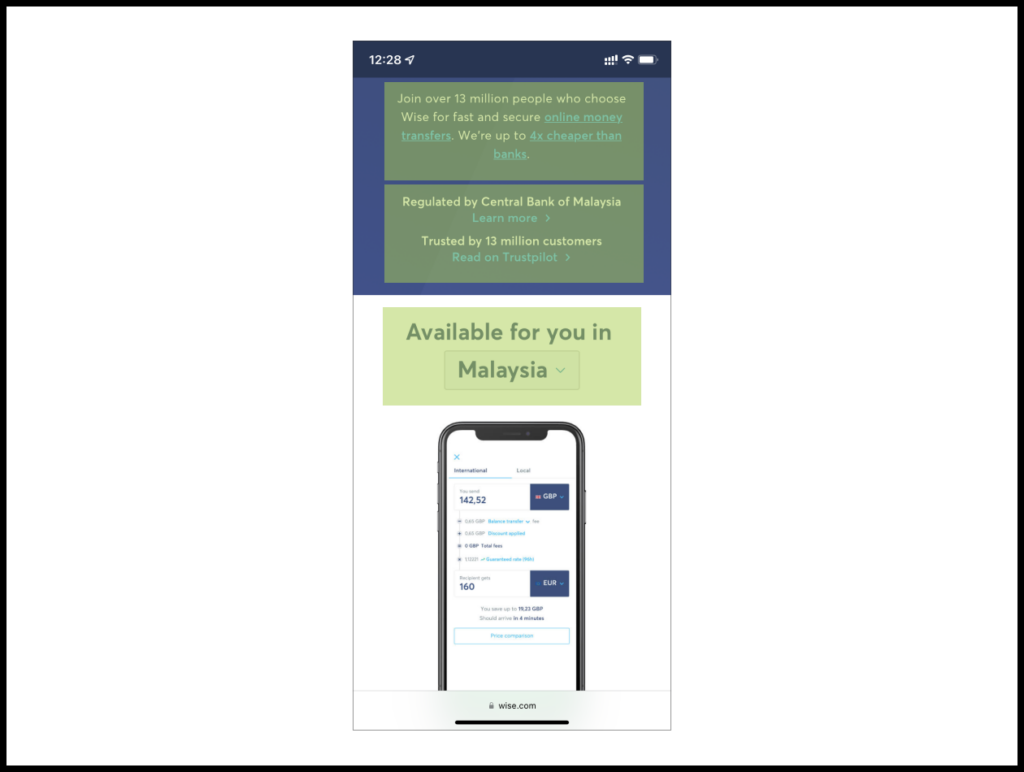 Before initiating the transfer, John scrolls through the site's main page to look for reassurance.
He sees social proof that strengthens his trust in Wise: it's used by 13 million people, who pay four times less than they would with traditional banks.
We already saw a comparison to another bank, Maybank, on the previous screen. Wise is indeed cheaper (not by a factor of 4x, but definitely cheaper in any case).
The information about 13 million users contains a link to Trustpilot, a popular review site.
Also note the mention of Malaysia's Central Bank. This is an important sign of legitimacy that strengthens trust in Wise.
And finally, seeing that Wise is available in Malaysia confirms once more that John will be able to use it for solving his JTBD.
John decides to use Wise for sending money.
We won't show all of the subsequent onboarding steps for Wise. The steps already shown above should provide a good idea of how the value communication framework works in action.
How two services communicate value so differently
None of the steps with Maybank helped to articulate value for John's JTBD. The on-screen information did not bring him closer to his goal, did not at all increase his motivation, and did not even try to convince him that Maybank could be of help.
But with Wise, each step communicated value while helping to strengthen motivation and address doubts. The path could be as short as a single step: choosing to "Get started" and create an account to send funds.
Wise spoke with John in the language of his job-to-be-done, because Wise:
Immediately offered a relevant solution,
Showed relevant currencies,
Showed timing and cost,
Provided a comparison to other available methods and clearly showed why it's better,
Gave verifiable social proof with links, and
Reassured John once more that Wise supports the country where he is located.
It might seem as if we specially choose these two products to illustrate both the good and bad extremes of value communication. The truth is that John's story is based on the real-life experience of someone we know.
As a useful exercise, try applying the framework to a specific JTBD for your product and then repeat this with several competitors. We're sure that you will find the insights worthwhile when it comes to thinking about what to do—and not do—for communicating value to your users.