In the preceding article we considered the main building blocks for activating users at the product level. But for complex products with a long time to value, working on activation only at the product level probably won't be enough. Many users will need help overcoming obstacles before they can experience value.
One solution to these activation obstacles is people. We'll be discussing why, when, and how adding people can help to enable "aha moments" and get better activation rates.
→ Test your product management and data skills with this free Growth Skills Assessment Test.

→ Learn data-driven product management in Simulator by GoPractice.

→ Learn growth and realize the maximum potential of your product in Product Growth Simulator.

→ Join our discussion on LinkedIn. New topics to talk about every week.
All posts of the series (24)
Examples of products with people in the activation process
We've listed a few examples of products and situations when users are very unlikely to activate without human intervention.
Palantir
Palantir develops sophisticated analytics products for sifting through enormous amounts of data. Most of its clients are governments and large businesses.
The company was founded in 2003 and had just 125 clients as of its IPO in 2020. These clients were very large ones, with an average contract value of $6 million per year.
Palantir products require a long and arduous sales process, followed by long and arduous setup. Dedicated teams work with clients to reach value by overcoming bureaucratic difficulties, configuring the software, integrating data sources, and training staff on how to use the product.
Without active involvement of Palantir staff, the chances of a client buying and successfully deploying the company's products would be virtually nil.
Workplace
Workplace from Meta is a platform for corporate communication that has been particularly successful in such large non-tech industries as banking, insurance, retail, and government.
Deployment of Workplace at a large company with thousands of employees is long and complicated: selling the product, explaining its value to executives, liaising with IT, creating a plan and preparing for launch, and helping users to get the most out of it. A large company is extremely unlikely to succeed with Workplace in the absence of people helping it to do so.
However, deploying Workplace at smaller companies (with dozens or hundreds of employees) does not require as much involvement. For the first few months after the public launch of Workplace, mandatory webinars during onboarding for small to mid-size companies showed new users how to benefit from the product and integrate it into their workflows. Later, after Workplace was made available as a self-serve version, webinars and support from a Customer Success Manager became optional.
Buying a home
Imagine you want to buy a home for $1.5 million. You've found it online, the photos look great, the size and location are perfect, and now you're ready to move forward.
But imagine that the site offers just one option: add the house to your shopping cart, upload all the necessary documents online, prove your identity and source of income, and click the Pay button. This is all totally automated, without any human interaction.
If you don't drop out at the top of the acquisition funnel, you will probably run away at one of the later stages. A potential homebuyer will want to see the house in person, discuss everything about the transaction with the seller and agent, get an inspection, consult with a lawyer for the paperwork, and work with a bank on the mortgage. All these barriers stand between the buyer and what they value—owning the house. Most of these barriers require getting help from skilled specialists.
Superhuman
Superhuman is a popular email client for overworked professionals drowning in emails.
One unique thing about Superhuman is that for a long time, it was impossible to simply download and start using it. A user would first have to undergo a concierge onboarding where Superhuman employees (and at first, the founder himself) explained the product and how to use it properly.
But why, you might wonder, is this necessary for an email client? Most people have used similar products for years. Shouldn't onboarding and activating them at the product level articulate value just fine?
The reason is that Superhuman is rather different from ordinary email clients and requires extra time to master. For instance, the web version of the product is controlled by the keyboard, not the mouse. This makes Superhuman very fast and efficient for plowing through messages, which is one of the key factors in the product's added value.
You can study Superhuman's concierge onboarding flow in this article and read about the product's history and engine for finding product/market fit here.
Building blocks for activation at the human level
We just looked at examples of using people to expose new users to value. Without these people, new users would be very unlikely to succeed.
At this point, we will take a more rigorous look at what adding people can do for activation and how this can be done.
What adding people to the activation process can accomplish
Help a potential client to see why the product will make life better
Users often have a hard time envisioning what a product does, how it fits with their workflows, and how it will help accomplish their goals. They don't have the knowledge needed to answer these questions.
This is where people come in: by studying the client's needs, they can explain exactly how the product can fit into existing processes and get the job done.
Help the user to overcome obstacles in the way of an "aha moment"
In our previous articles we discussed how to identify the key steps in the user activation process. Sometimes a step is so difficult that users give up and don't come back.
These obstacles might include filling out paperwork for the client's legal department, meeting the requirements of their in-house cybersecurity team, and articulating value to the person who ultimately controls the budget and makes the final decision.
Your goal is to reduce the time to value by doing this work yourself, instead of making the client do it for you. Generally the most effective way is to add people at the trickier stages of activation.
Help users who have a problem, are stuck, or had a bad experience
For many products, product-level activation is enough to help users to experience value. But there will be exceptions when users get confused, unhappy, or stuck. If someone at the company can act quickly enough to help, the problem can be solved and the user will return to the path to the "aha moment".
Ways of adding people to activation
There are many different ways to work people into the activation flow. Depending on the product and its purpose, the best way will probably resemble one of the following options:
Dedicated team for helping the client along the activation journey. Difficulties to address can include learning about the product's features, integrating the product into existing processes, and teaching how to use it. This approach is common for complex enterprise-oriented products.

Dedicated sales rep or Customer Success Manager. This is like the option above, but with a minimal number of people involved on the client side. Complicated products for mid-sized companies often benefit.

Customer Success Managers or sales reps to accelerate growth at companies that are already using the product successfully. You can see this often with products that have a bottom-up growth model, like Slack or Dropbox. Both products gain a foothold at a company thanks to individuals who start using the product organically for their own reasons. Once usage at a particular company reaches a sufficiently high level, a sales rep reaches out to provide access across the whole company in a centralized (top-down) way.

Webinars, conferences, and other events. Webinars are a budget-friendly way to educate potential clients and demonstrate value to them. They can also help with product acquisition. Webinars were used by Workplace from Meta early on for small to mid-sized companies when dedicating a Customer Success Manager would not have made financial sense. Webinars are in heavy use by Intercom.

Support resolves issues that users cannot solve for themselves at the product level. In the case of online marketplaces, this can mean using people to adjudicate transaction disputes.

Community and ambassadors. What makes a community unique is that help comes from other users, not the company itself. Many educational services provide forums as a space for students to discuss questions with each other, for example.
Integrating people into activation: the right way
As product complexity and the time to value increase, the more engaged people need to be for them to overcome the barriers on the path to appreciating added value.
For a Palantir product, a community would not be enough to convince new users of the product's value. They would need a dedicated team helping to conquer difficulties at all the stages of activation.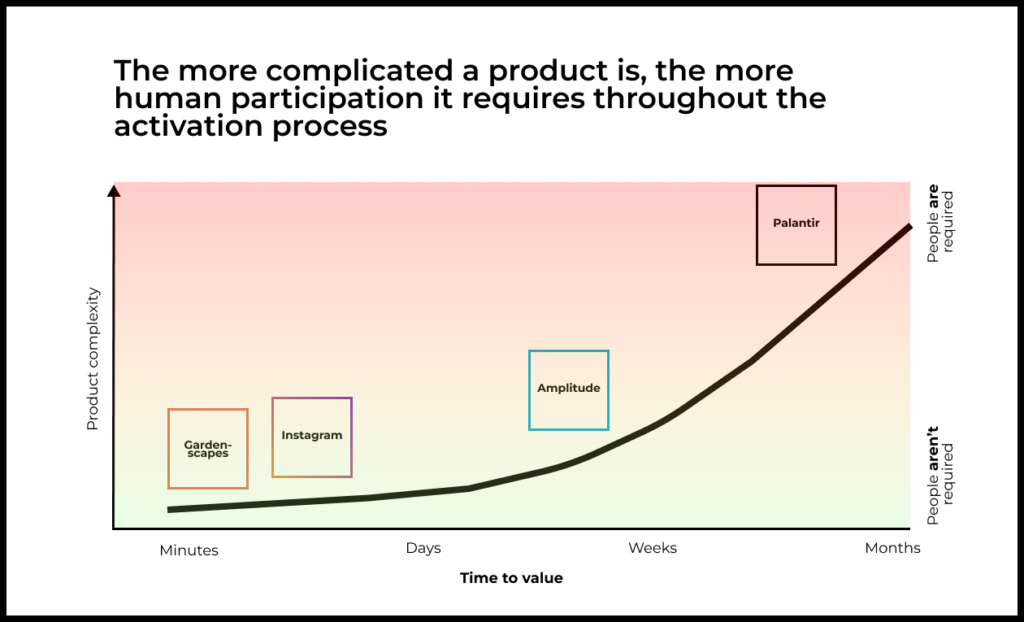 Keep in mind, however, that a single product can combine human involvement in different ways:
Different clients or use cases might merit special treatment. In our earlier example, we noted how Workplace from Meta used different methods for activating enterprise and SMB clients.

People can be integrated in different ways for key steps in the activation process. If there is a complicated step that requires configuring the product and training the client's staff, this might be a good place for a specially dedicated team to step in. After making it through this step, the client can be assigned a Customer Success Manager, who will follow up with the company to solve any issues and expand to more use cases.

Matching users to the right flow
We've looked at how the need to add people to activation will depend on the type of client and their use case. Because of this, teams often need additional information to best optimize activation for a particular client.
Teams can elicit this information by asking additional questions during sign-up or onboarding. Another source of data for decision-making comes from third-party services informing about the client's size, industry, and other relevant business details.
The screenshot below illustrates one of the first steps when signing up for analytics service Similarweb. The user is asked to pick their use case. Depending on the use case, the Similarweb team will pick the approach to activation accordingly. For some use cases, activation will be fully automated (at the product level). In others, the user will be contacted by the sales team to discuss needs and challenges.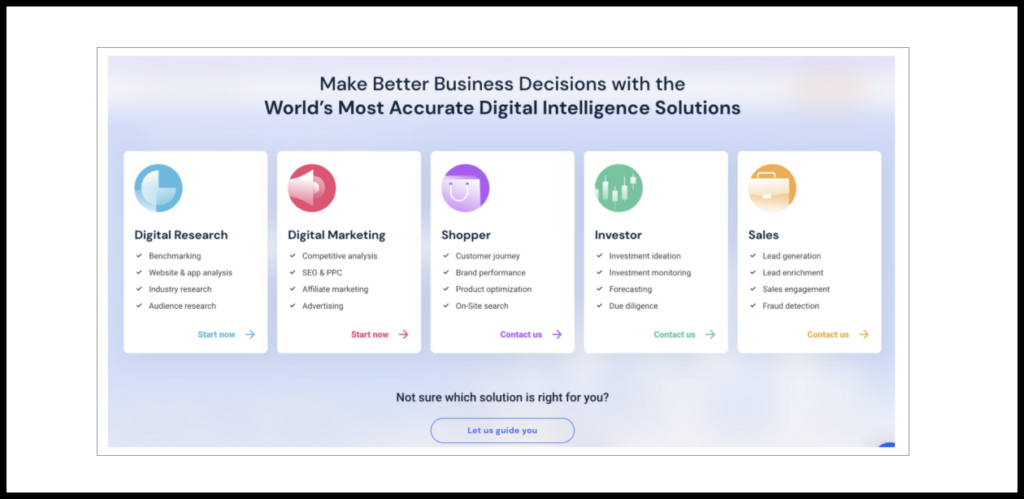 Sales analytics service People.ai makes potential users request a product demo. The user's email address and company name can be cross-referenced with third-party data sources for a very good idea of the company's size, industry, and revenues. And by knowing the user's role at the company, sales representatives can evaluate whether the user has enough weight at the company to navigate the necessary change journey.
Sales teams can use this information to prioritize leads. The demo call assists with identifying the client's needs and challenges, as well as determining how much the client can benefit from the product.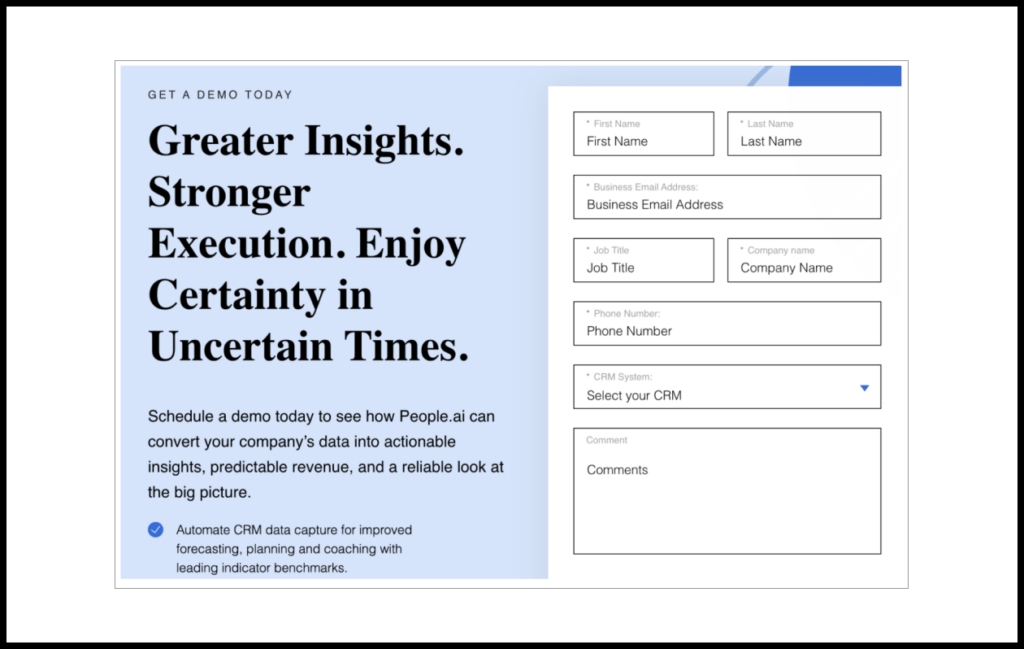 People-free activation options for complex products
There are a few complicated products that still involve only minimal human intervention for user activation. Take Tesla, for example.
A Tesla vehicle is an expensive and complicated product with a large number of options to choose from. True, you can buy one online without talking to anyone. If you want, you can sign up for a test drive or visit a showroom to take a look and ask questions. But doing so is not at all mandatory.
In the case of Tesla, a strong brand, product reputation, word of mouth, and the ability to take a friend's Tesla for a ride have made human interaction redundant for most potential buyers.
Opinion leaders with a high level of trust, or simply a strong brand, can help to activate a large proportion of users for complicated products without necessitating human involvement in that process.
Adding people to the user activation process
For complicated products with a long time to value, relying exclusively on product-level activation will give minimal, if any, results.
At stages of activation where users experience difficulties on their journey to an "aha moment", it can be a good idea to add people to help.
When adding people, you should always have clear what this person is accomplishing for the user, under which conditions and at which stage the person is necessary, and how they help the user to experience and appreciate added value.